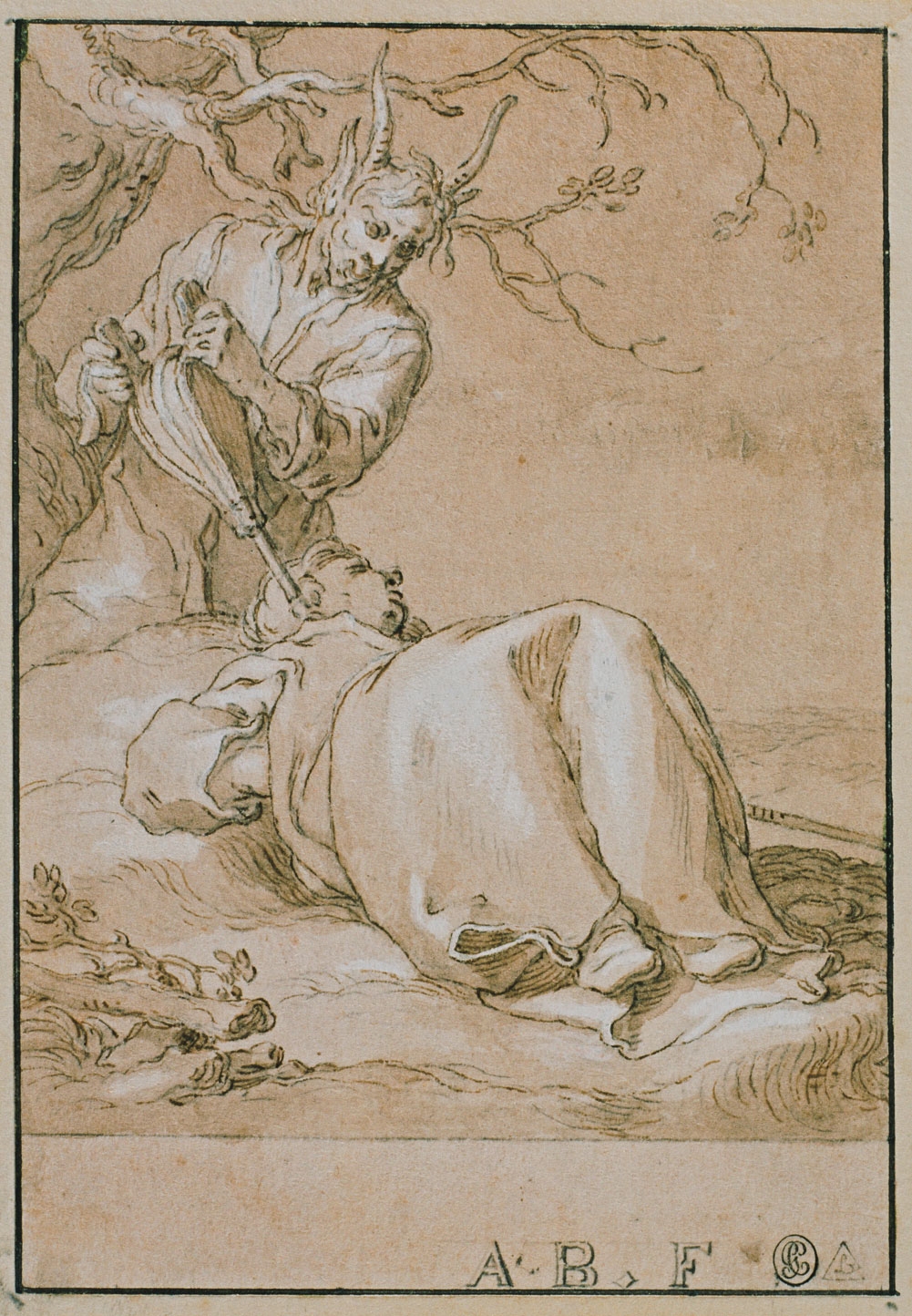 The devil blowing in the ear of a sleeping man
Pen and brown ink with brown wash over traces of pencil with white highlights
Initialled lower right: A.B. F, probably an abbreviation for 'Abraham Bloemaert Fecit'
Unidentified stamp (Lugt 1143); stamp of the Lagoy collection (Lugt 1710)
140 x 95 mm
PROVENANCE: Marquis de Lagoy (1764-1824)
Son of the architect, sculptor and teacher Cornelis Bloemaert (c.1540-1593), Abraham Bloemaert began his carrier under Gerrit Splinter in Utrecht before training under Joost de Beer. At sixteen he left for Paris where he stayed for three years. He became the pupil of Jean Bassot and Hieronymus Francken, and discovered the work of Toussaint Dubreuil before returning to Utrecht in 1583. In 1591 he traveled to Amsterdam in the company of his father and in 1593 settled down in Utrecht where he became the master of the guild in 1611, senior member in 1618 and inspector until 1628.
Abraham Bloemaert's work falls within the stylistic movement of European mannerism. His vast output includes portraiture (Portrait of a man, Utrecht museum), religious scenes (Moses striking the rock, New York, Metropolitan Museum; Judith showing the people the head of Holophenies, Vienna, Kunsthistorisches Museum; The Adoration of the Magi, Paris, Louvre) and mythological subjects (The Wedding of Thetis and Peleus, The Hague, Mauritshuis). Landscapes played an important role in many of his compositions. His way of depicting naturalistic detail, characteristic of his earlier works, was influential on artists for generations.  During his lifetime Bloemaert's drawings and watercolours were highly regarded. They were widely known through prints, etchings and engravings produced by his son Hendrick (1601 – 1672).
This sheet was probably intended as a design for an engraving and the lower part was left free for lettering, however, no reproductions of it are known. According to Professor Jaap Bolten, the present work combines genre and allegorical subjects, commenting upon idleness, a subject that seemed to interest the artist in particular.