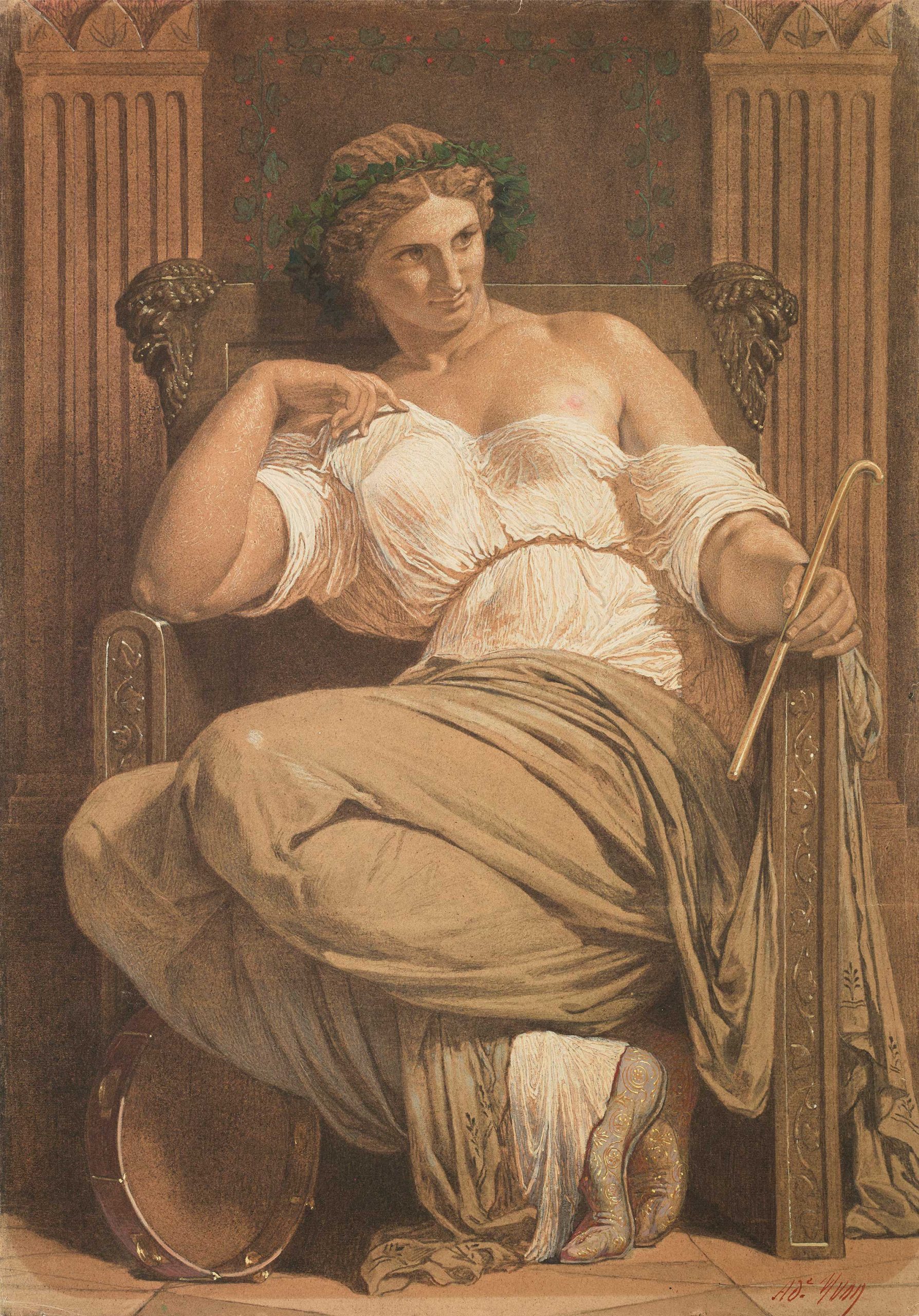 (1817 Eschviller – Paris 1893)
Thalie
Watercolor over lead pencil
530 x 370 mm
Signed : Ad.e Yvon
A history painter well known for his paintings of battles, and particularly for those that took place during the Second Empire, Such as The Battle of Malakoff (Versailles), and The Battle of Solférino (Château de Compiègne), Yvon began his career at the Beaux-Arts, in the studio of Paul Delaroche.
It was with the latter that he learned the art of portraiture and developed his taste for historical frescos. Yvon participated in the Salon, beginning with three religious paintings in 1841, followed in 1842 with Portrait of Madame Ancelot.
In 1846, Yvon left for Russia, where he traveled for six months. He used drawings he made there for The Battle of Kulikova, which was sold to Tsar Alexandre II in 1850.
In 1856, he was the only official artist to accompany French troops during the Crimean War, and received a Medal of Honor the following year.
In 1847, Yvon began a series treating the Seven Deadly Sins inspired by Dante's Inferno, at Salons from 1748 to 1750.
He was named to be a member of the Imperial Academy of Fine Arts in Saint Petersburg in 1860, then in 1863, as professor at the Ecole Nationale Supérieure des Beaux-Arts.
In 1870, Yvon executed a monumental painting measuring 15 meters, The United States of America, as well as its smaller replica, today exhibited in the Saint Louis Art Museum. This large composition represented the 34 Union States grouped around the allegorical figure of the American republic.
Our monumental work is dedicated to Thalia, one of the nine muses in Greek mythology, the daughters of Zeus and Mnemosyne.
Known as "The Joyful One," or "The Blossoming One," Thalia is the muse of comedy, and Yvon remains faithful to her traditional iconography: a cheerful young woman, crowned in ivy, and holding a musical instrument (here, a tambourine rests at her feet). The mask of comedy that she usually holds up in front of her is present in the form of the carvings on the back of the chair on which she sits.