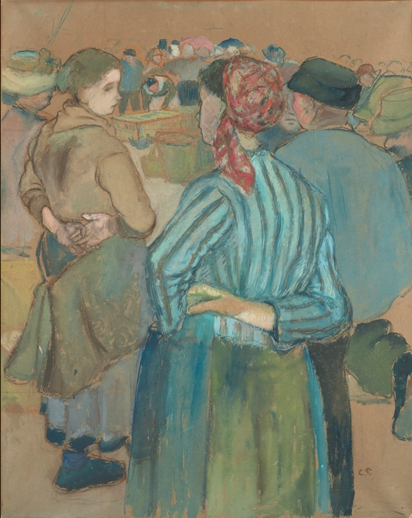 (1830-1903)
The Market in Pontoise
Distemper and gouache on paper laid down on canvas
81 x 65 cm
Monogrammed « C.P. » lower right
Circa1882
Preparatory drawing to the canvas in the Norton Simon Museum in Pasadena.
Provenance : Artist's studio; Jeanne Bonin–Pissarro, Paris (by inheritance); Alexandre Bonin, Paris; his sale, Me Lair-Dubreuil, Paris 26 June 1931, no. 9 "Au Marché";
Acquired at this sale by the family of the present owner
Pontoise was an unbelievable source of inspiration for Pissarro, as much for his celebrated landscapes as for his scenes of everyday life.
If a scarcity of models and of means prompted the artist to look for subjects among those close to him, in 1880 he began a new type of work, inspired by the peasant world, characterized by its authenticity and monumentality.
Most of the models (most often female) were anonymous, as in the Portrait of a Peasant Woman at the National Gallery of Arts in Washington. Only a few of them are identified, such as "Mère l'Archevêque"  at the Metropolitan Museum of Art.
Indeed, the human figure took a preponderant place in the research of the artist beginning in 1880. In 1882, the year of our market scene, no fewer than 27 of the 36 works presented by Pissarro at the 7th Exposition des Artistes Indépendants were depictions of peasants.
Critics also noted this new orientation, some not understanding his modernity and relegating his work to being a pale copy of the "biblical" peasant universe of Millet, but he was hailed by others like Huysmans, and Alexandre Hepp, who were struck by the monumentality and striking simplicity of these anonymous men and women, captured as they went about everyday life, while Duret congratulated Pissarro for the more assertive and personal style that he was developing.
Our large sketch is preparatory for the Poultry Market at the Norton Simon Museum in Pasadena (M.1984-2). The composition is already totally finished, there lack only the market stands in the background of the canvas. Very few changes were made to the figures: only the woman in the foreground, her arm crossed behind her back in a posture of waiting, would be modified. In the final version, she would be holding a basket of eggs, indicating her activity to us.
It is as much the scale of the figures as the lack of interest they show in the viewer—they most often turn their backs to him—that reinforce our impression of being mixed in with the crowd ourselves.
The following year, in 1883, and in the same spirit, Pissarro executed "The Pork Butcher," today in the collections of the Tate Gallery in London.
In 2011, the Clark Art Institute of Chicago devoted an exhibition to these powerful, modern representations of the peasant world, "Pissarro's People."