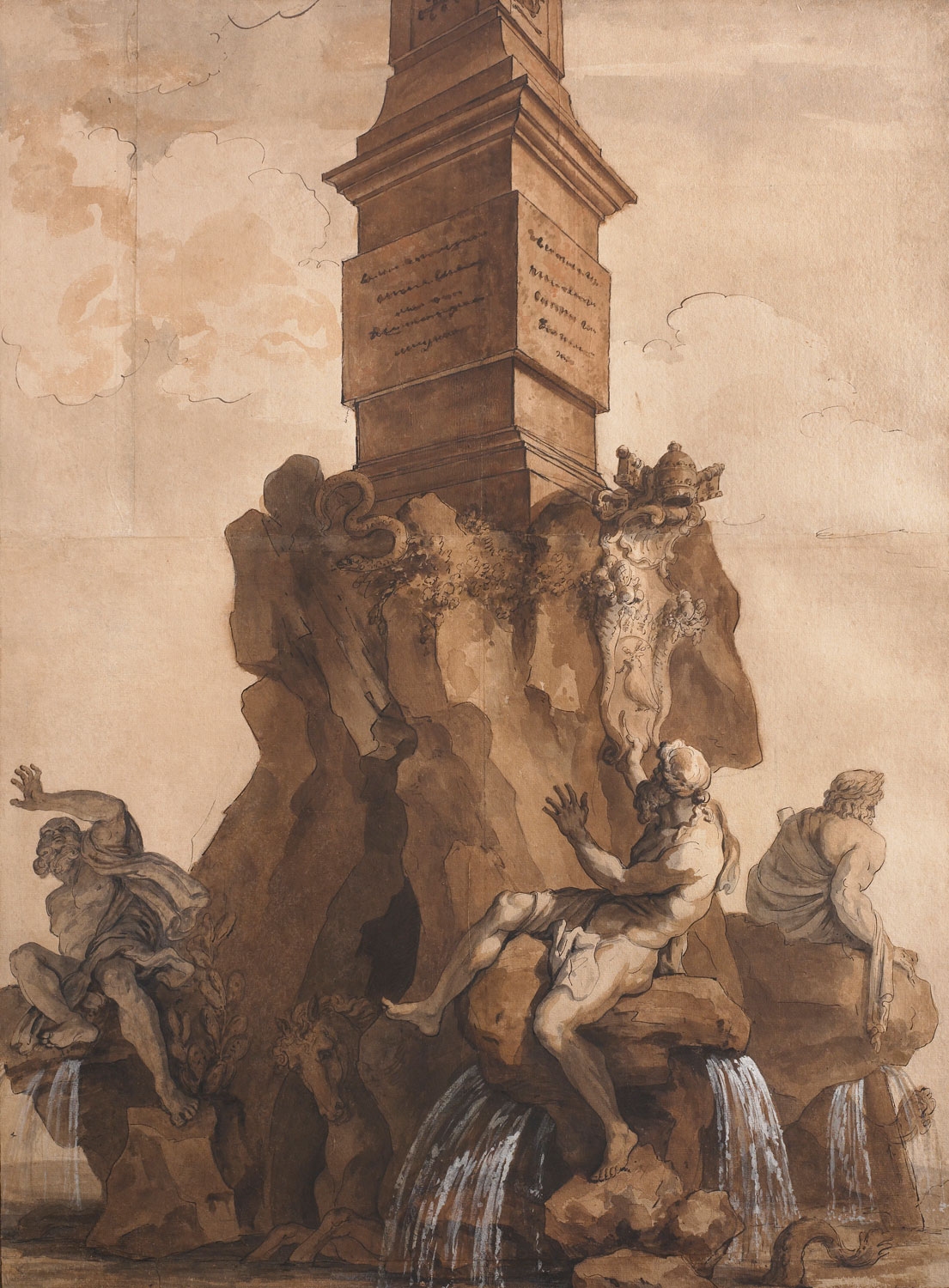 The Fountain of the Four Rivers, Piazza Navona, Rome
pen and black ink, brown wash heightened with white
780 x 570mm
Student of Boucher at the Académie Royale de Peinture, Charles de la Traverse won joint second prize with Philibert-Benoit de la Rue behind Jean-Baptiste Hutin, with his painting Elisha raising the Shunammite's son. He then entered the Ecole Royale des Elèves Protégés, at that time directed by Carle van Loo. In 1751 he was sent to the Académie de France in Rome as a pensionnaire du Roi. Natoire, its director, appreciated the work of the young artist and recommended him to the directeur des Bâtiments du Roi, who granted him a second stay in the Eternal City.
We can compare this sheet with several others by la Traverse, such as The Holy Family (Biblioteca Nacional, Madrid), in which we not only recognize the characteristically sinuous and freely flowing lines, but also the faces, with small, stubbed noses.
It can further be compared to The Church of Giuseppe Frascari and The Fountain of the Pupazzi, both in the Musée de Besançon.
La Traverse's style in this period is very similar to another artist, also working in Rome at that time, Augustin Pajou, '… an old fellow student at the Ecole Royale des Elèves Protégés with whom he shared the tribulations of a hard voyage in the Mediterranean….they frequently drew the same subject, probably during shared working sessions. The graphic style of both artists has its similarities – a bold manner, the dramatic use of washes…' (J.D. Draper and G. Scherf, 'Augustin Pajou, dessinateur en Italie 1752-1756', Société de l'historie de l'art français, 1997, pp.38).
The Fountain of the Four Rivers (1648-1651) was built by Bernini in the middle of Piazza Navona in Rome, in front of the church of Sant'Agnese in Agone. Each one of the four rivers represented by the fountain symbolizes a continent: the Danube for Europe, sculpted by Antonio Raggi; the Ganges for Asia, sculpted by Claude Poussin; the Nile for Africa, sculpted by Giacomo Antonio Fancelli; and the Río de la Plata for America, sculpted by Francesco Baratta.
Commissioned by Pope Innocent X, the fountain supports an obelisk brought to Rome by Emperor Caracalla from the Circus of Maxentius.