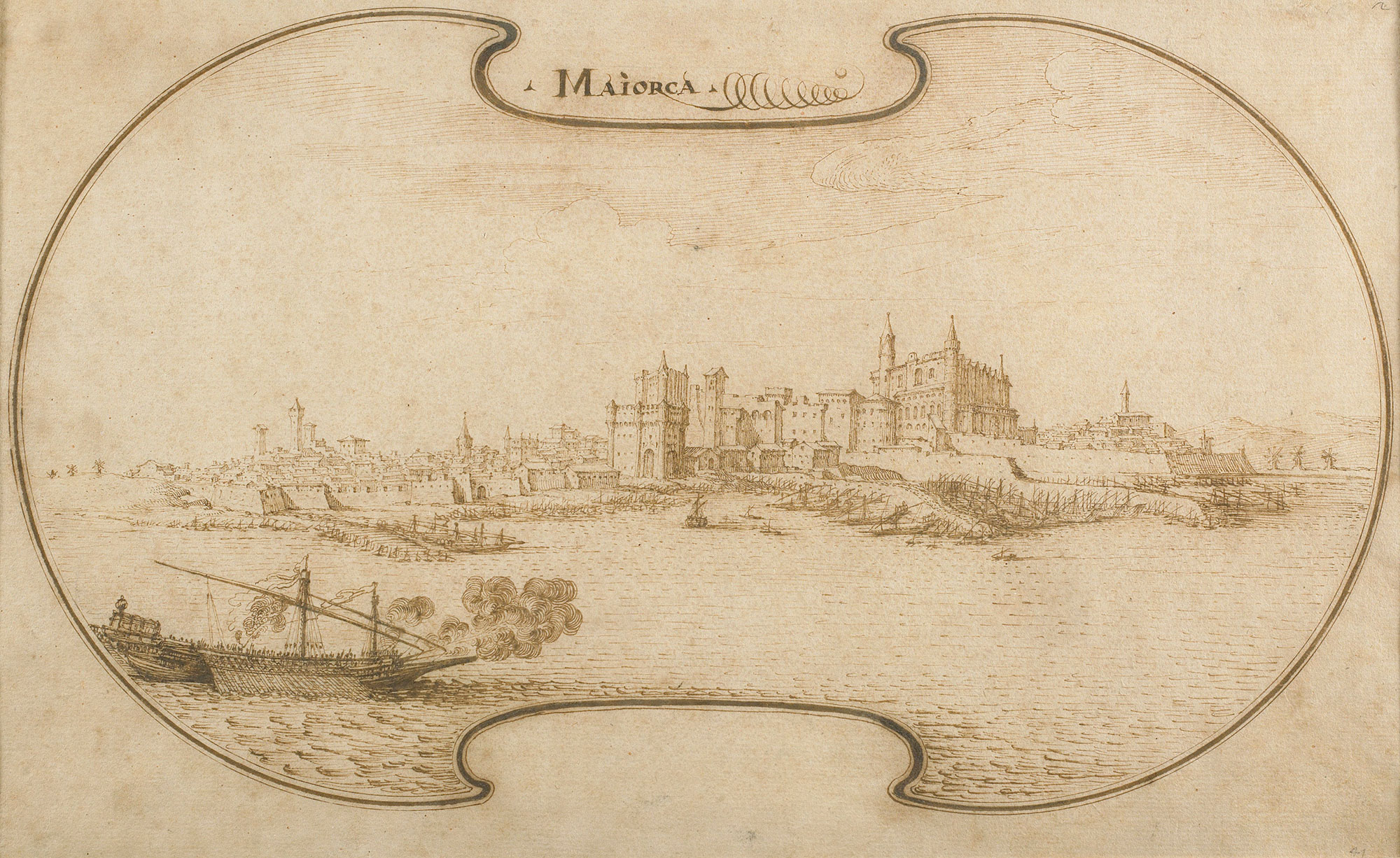 Pisa c. 1610 – after 1641 Florence
View of Mallorca
Pen and ink
Inscribed: Maiorca
 220 x 360 mm
Ercole Bazzicaluva was born in Pisa in the early 1600s. He was trained in Florence, at a time when it was dominated by the Médicis, in the workshop of Giulio Parigi. As a talented draughtsman and engraver, he was commissioned to illustrate various cities.
In 1638 he engraved a series of twelve landscapes for the Grand Duke Ferdinand II, comparable to those made by Callot in 1618 for Giovanni de Médicis. In 1641 he illustrated the mock-heroic poem Le Pazzie dei Savi or Lambertaccio by Bartolomeo Bocchini. He became first a 'servant of His Serene Highness the Archduke of Innsbruck, then castellan of the old fortress of Livorno [a port in Tuscany], and finally of the fortress of Pisa' (Baldinucci). Baldinucci described him as 'a brilliant draughtsman in pen and ink'.
Whilst serving as governor of Livorno, Bazzicaluva travelled to Spain to maintain commercial relationships between these two cities. Three drawings are testimonies of these travels, a view of Mallorca, Barcelona and one of Tarragona.
Mallorca is seen from the sea and with its typical landmarks: the main city, Palma de Mallorca, with its ships, ports, ramparts, the cathedral and the Almudaina Palace.
The cathedral of Palma is situated not far from the shore, on top of medieval fortifications and creates, together with its neighbouring Almudaina Palace, the visible symbol of the city and can be seen from anywhere in the bay.
Even tough the artist took care to place the buildings with precision and to depict the cathedral with all its monumentality, he changed certain elements: he slightly changed the frontal view of the cathedral by removing the central roof structure and only leaving the two towers.
The panoramic view is framed by the artist, similar to other Iberian views, in the form of a violin, with the name of the island inscribed on top in Italian: Maiorca.