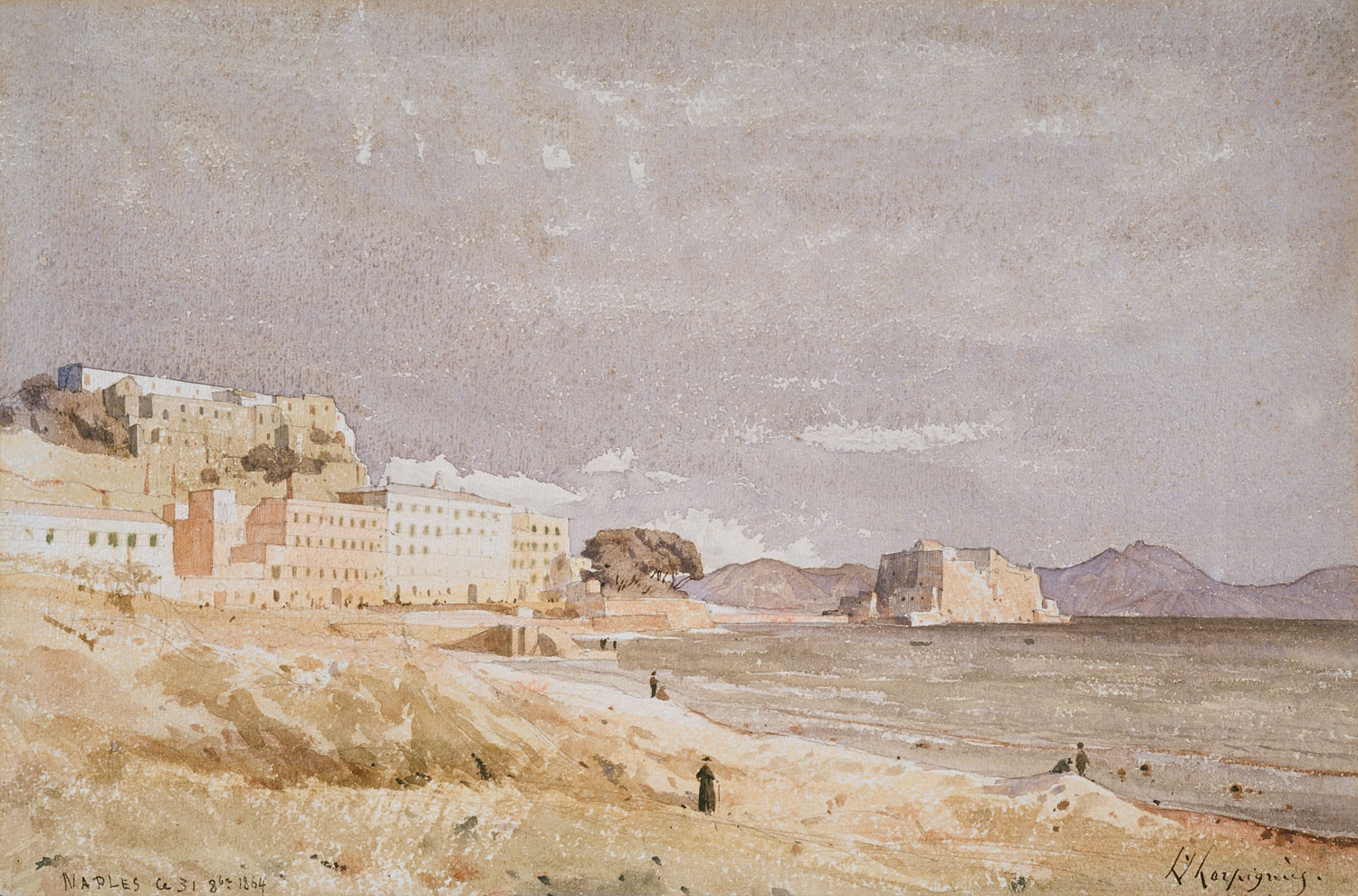 View of the bay of Naples with Castel dell'Ovo
watercolour, over an underdrawing in pencil
signed and dated: Naples le 31. 8. 1864
250 x 375mm
Harpignies came from a prosperous, solidly bourgeois background and his artistic career was delayed by being involved in the family iron forges at Denain and the Famars sugar refinery. In 1838 he was exposed to a wider variety of French landscape during a two-month tour with the family friend Dr Lachèze, who introduced Harpignies to the landscape painter and etcher Jean-Alexis Achard (1807–84). He studied with Achard in Paris in 1846 and it was only then, at the age of 27, that he devoted himself to art. Initially he was influenced by the landscape artists of the Barbizon School, especially Corot. Harpignies and Achard went together to Brussels in 1848, before going to Germany and Italy where Harpignies stayed until 1852. He soon demonstrated a very strong artistic personality, characterized by great force of expression. He first exhibited at the Salon in 1853 with three paintings; in 1864 he exhibited his first watercolours. From his second trip to Italy 1863-1865 he returned with many landscape paintings, and was awarded medals in 1866, 1868 and 1869. He was rewarded the Croix de Chevalier of the Légion d'Honneur in 1875, Officier in 1883 and Croix de Commandeur in 1901.
His works are exhibited at the Carnavalet Museum, the Petit Palais and the Musée de Montpellier.
This watercolour depicts the bay of Naples and its embankment, via Partenope, which runs parallel to strada Chiatamone along Pizzofalcone. Pizzofalcone extends southwards into the sea and forms a small rocky island linked to the mainland by a causeway. On this island is Castel dell'Ovo (named after its egg shape) dating in its present form from the period of Viceroy Don Pedro de Toledo (1532-1553); it was originally built in the twelfth century.