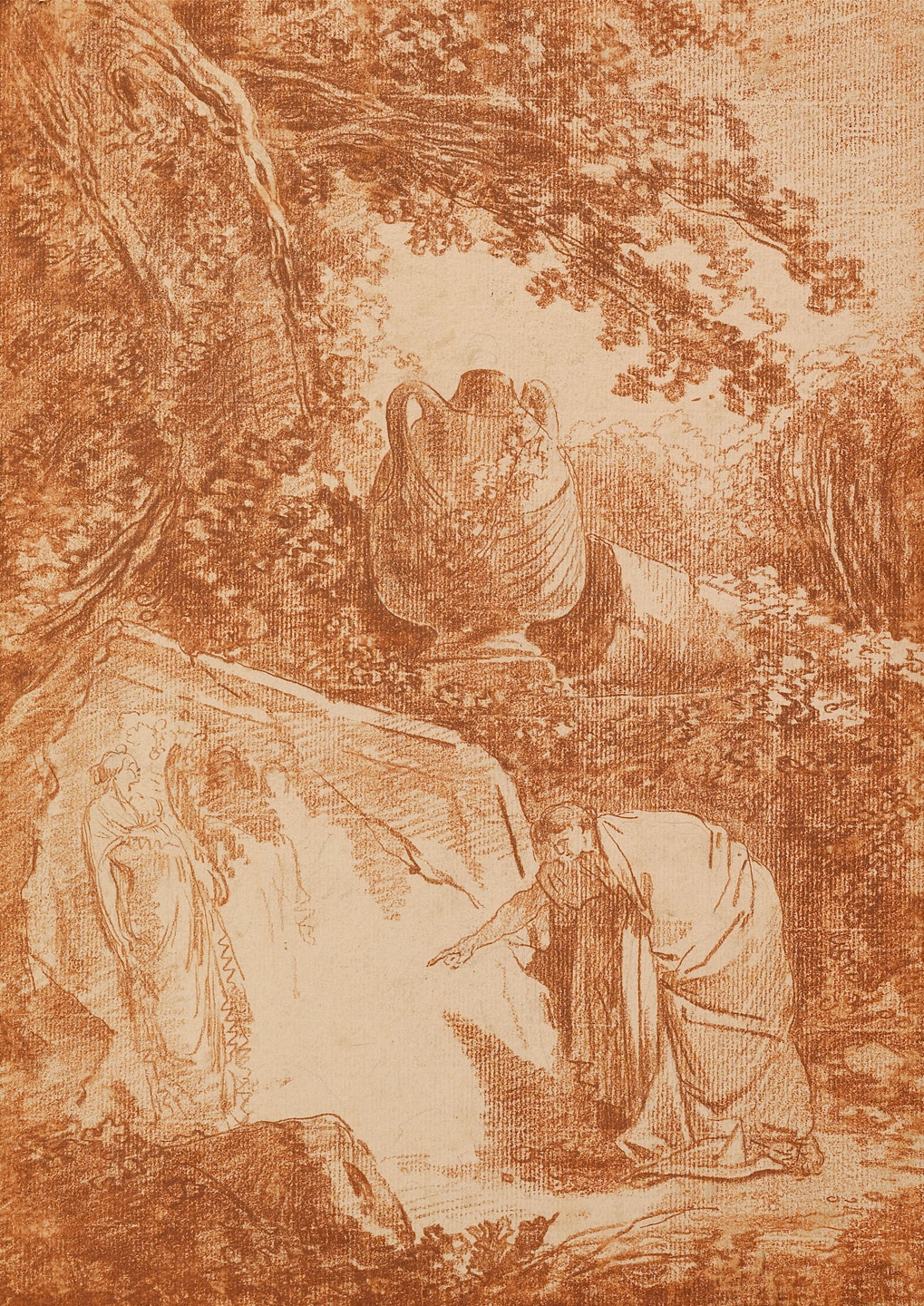 Le bas-relief
Red chalk on paper
338 x 240 mm
c.1760-5
Made during Hubert Robert's stay in Rome between 1760 and 1765, this drawing depicts a figure in a toga leaning and pointing towards an ancient low-relief. Presenting the artist's characteristic combination of classical ruins and landscape, and juxtaposing a dense composition with the freshness of red chalk, Le bas-relief is a fine example of Robert's work.
Hubert Robert was born in 1733 in Paris and studied under the sculptor Michel-Ange Slodtz, a great admirer of Italian masters, who strongly encouraged him to travel to Rome. Visiting Italy had been a common practice for French artists since the beginning of the seventeenth century. Thus, in 1754 Hubert Robert arrived in Rome, where he worked at first under the patronage of the French ambassador, the future Duc de Choiseul. The French noblemen supported the artist in gaining his entrance to the Académie de France, then located in Palazzo Mancini and under the direction of Charles Natoire. Remarkably, Robert became a student of the Académie in 1759, without having taken part in the Prix de Rome, the annual prize organised by the Académie de Peinture et Sculpture in Paris, which awarded the successful applicants with a bursary that covered the costs of their stay in Italy. During his stay in Rome, Robert met Jean-Honoré Fragonard and the Abbé de Saint-Non. The three of them would often sketch together views of Rome and Tivoli and would travel together to Naples.
During these years, Robert produced a large number of drawings inspired by architectural ruins against the Italian landscape. His first patrons were the Duc de Choiseul and the Maltese ambassador Bailli de Breteuil. When Robert's scholarship at the Palazzo Mancini ended in 1762, Breteuil allowed him to extend his stay in Rome for another three years.
In July 1765, Robert returned to Paris, where he became soon one of the most successful painters of his generation. On 26 July 1766, he was elected full member of the Académie, a privilege hardly granted to artists. Since then, he frequently exhibited at the Salon, where his paintings always met the approval of critics and public alike. In 1770, he was appointed Dessinateur des Jardins du Roi, and was given a studio in the Louvre.
He often reworked his Italian sketches in order to create larger compositions, but also painted a great number of French landscapes, views of famous parks such as Méréville and Ermenonville, and views of Paris. In 1783, he began to work on a series of paintings representing monuments in the South of France, today in the Louvre.
Robert could not escape the tumultuous years of the Revolution; he was arrested as a suspect in 1792 and kept in detention at Saint-Lazare and Saint-Pélagie prisons, where he continued to draw and paint. He was released on 27 July 1794 and was appointed on the Committee of the Louvre alongside Fragonard. When the Louvre studios were closed in 1806, Robert moved to rue Neuve du Luxembourg where he died at the age of seventy-five on 15 April 1808.