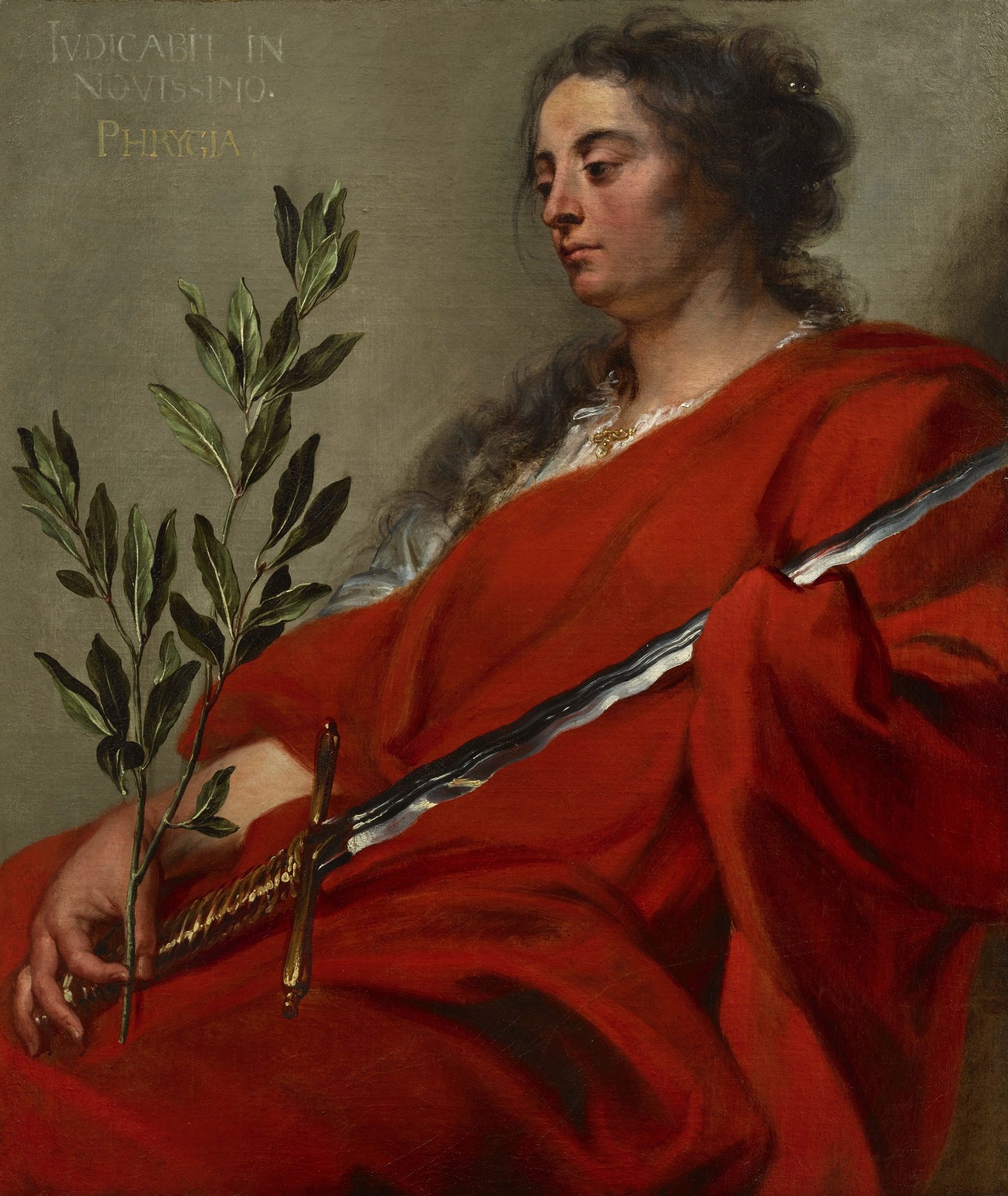 (1604-1668)
The Phrygian Sibyl
Oil on canvas
100 x 84 cm
Executed in the 1640's
Inscribed : IVDICABIT/IN NOVISSIMO PHRYGIA
The here represented woman is to be identified as the Phrygian sibyl, one of the twelve ancient sibyls, women endowed with the gift of prophecy and being linked to a specific city or region in the ancient Greek-Roman Mediterranean world. Is painted in white capitals: IVDICABIT/IN NOVISSIMO (He will judge on the last day). Under this sentence the word PHRYGIA appears in yellowish capitals. The text is clearly referring to the role of Christ at the Last Judgment. So are also the attributes of the sibyl. Like her the judging Christ is often represented with a sword in His left hand to drive the sinners to hell, while in His right hand He may wear a laurel twig or a lily, welcoming the blessed who will enter heaven. From the Middle Ages onward, the sibyls have often been represented in art since it was believed that they had prophesied the coming of the Saviour, thereby referring to the main events in His life, like His birth, sacrifice and second coming.
This painting is to be considered the work of the Flemish painter Jan Boeckhorst (1604-68), who had received his first training in the city of Münster in Westphalia and settled in Antwerp around 1626. There he came into close contact with Rubens and his workshop. Thus it is known that he was active in the 1630's, realizing a number of large paintings which were executed after Rubens's sketches and under the latter' s supervision.  He further finished some of Rubens's paintings that were found incomplete in the latter's workshop at the moment of his death in 1640.
The here discussed painting is exemplary for Boeckhorst' s earlier works that were strongly influenced by a truly rubensian sense for plasticity and threedimensionality. A very striking feature is the foreshortening in the representation of the sibyl's body. This brings Hans Vlieghe to date the work somewhere in the 1640's, the decade after Rubens's death. It seems very probable that the painting originally was part of the same series as the Eritrean or Samian sibyl (whereabouts unknown; see repr. in M. Galen, Johann Boeckhorst, Gemälde und Zeichnungen, Hamburg, 2012, p. 137, no. 41 ) and the Sibyl of Cumae (Germany, private collection; see repr. in M. Galen, op. cit., p. 139, no. 42 ).
Finally, it is not impossible that these three paintings originally formed part of 'De Tweelff Sibillen van Joannes Binckhorst' (sic), that at the end of 1653 were in the possession of the Antwerp painter and dealer Jeremias Wildens. the son of the better known landscape painter Jan Wildens (see E. Duverger, Antwerpse kunstinventarissen uit de zeventiende eeuw, VI, Brussels, 1992, p. 484).
We thank Hans Vlieghe for the entry partially used here.