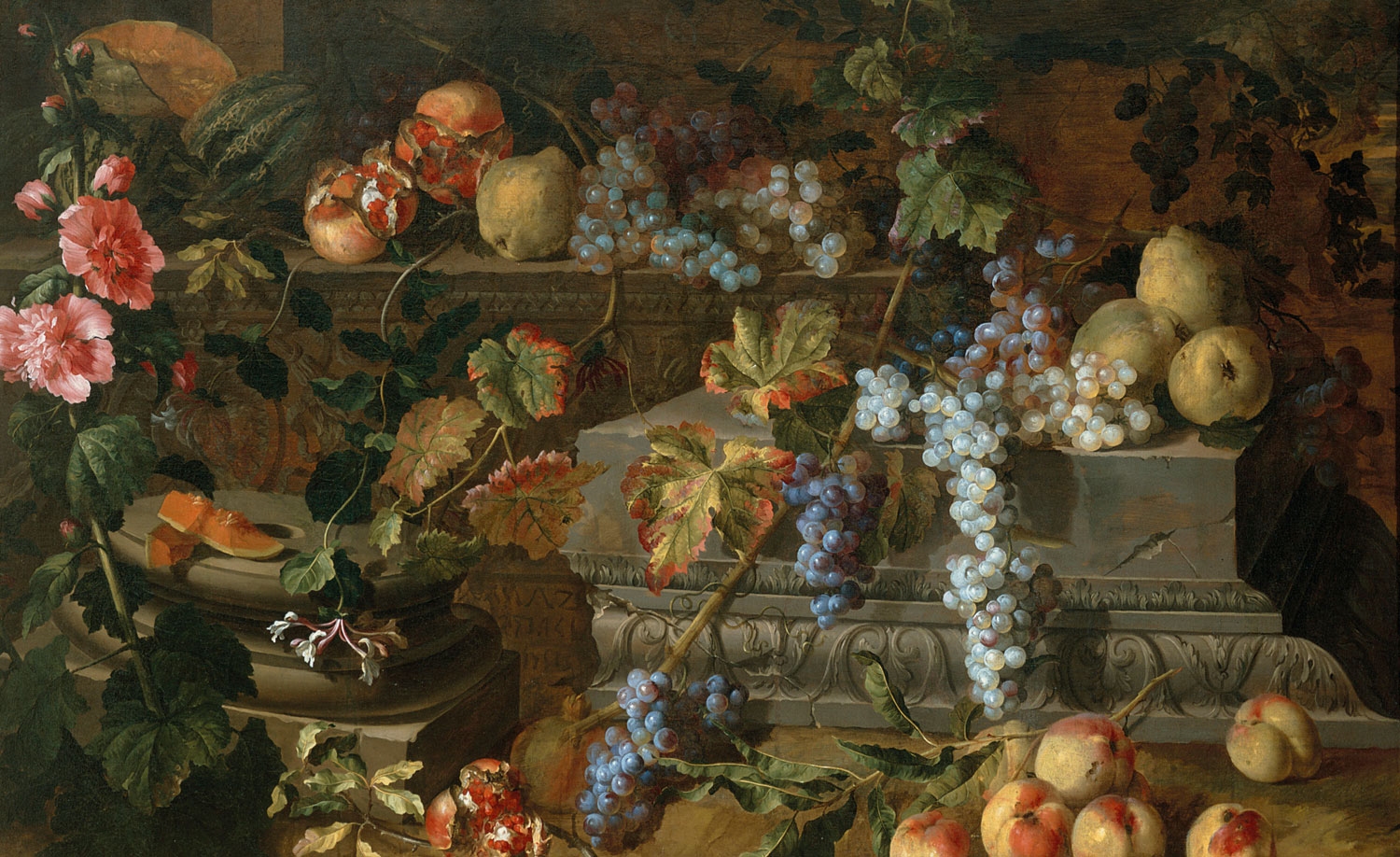 Still Life of Fruit and Flowers in an Entablature
Oil on Canvas : 85 x 158 cm (33 1/2 x 62 1/4 in)
Executed circa 1670
Literature : Michel Faré, Le grand siècle de la nature morte en France, le XVIIème siècle, Fribourg, Paris, 1974, pp 198 and 199, attributed to Pierre Dupuis ;  Claudia Salvi, Trois peintres de fleurs à Meudon : Jean-Baptiste Monnoyer, Antoine Monnoyer et Jean-Baptiste Blin de Fontenay, in "Bulletin de la Société de l'Histoire de l'Art Français", 1998, p.24, fig.7 ; Claudia Salvi, D'après nature, La Nature morte en France au XVIIe siècle, La Renaissance du Livre, Tournai, 2000, p.191, ill. p.190
Originally from Lille, Jean- Baptiste Monnoyer started his career in Antwerp, as a painter of historical subjects.  He gave up that particular genre to devote himself to still lifes of fruit and flowers.  The view has sometimes been put forward, that he may have been influenced in this by Jan Davidsz de Heem.
He set up in Paris around 1655 and was received in the Academy ten years later. He pursued a brilliant career, mainly thanks to Le Brun, who made him his main assistant and had him participate in a number of royal building projects, among them Vincennes, Saint-Cloud and also Versailles.  His works, either his lintels or other decorative features, were often modified or moved, according to changing taste, finishing very often by disappearing altogether.
He only exhibited once in the Salon in 1673, under the pseudonym Baptiste.
Having become one of the most well known painters in the reign of Louis XIV, Monnoyer enjoyed a particularly privileged position.  Nonetheless, he decided to leave France around 1685, having been invited by Lord Montagu, the British Ambassador.  That is how he came to spend the last 20 years of his life in   England, where he was immensely successful.
Seldom signed, still lifes of this period were often wrongly attributed.  This painting, just like La Nature morte aux poires, grenades and pastèques sur un entablement (Sotheby's, New York, 12 January 1989, no. 106), was for a long time thought to be by Pierre Dupuis. Fruits et ruines d'architecture, which hung in the French Embassy near the Holy See, was incorrectly ascribed to Alexandre-François Desportes by the Louvre in 1933.
This composition, which is bathed in a warm glow of light, can be compared to two other works of the artist, Fleurs, fruits et objets d'art (fig. a – Musée Fabre, Montpellier) and Fruits et ruines d'architecture du Vatican, which is in the Vatican.  The latter painting was identified by Madame Salvi as the still life done for the Château de Meudon and referred to in L'inventaire des peintures laissées à Meudon par la marquise de Louvois, dressé, drawn up in 1695 and published by Biver in 1923 ("Histoire du château de Meudon", Archives Nationales, Paris).
These three works can be dated to the beginning of the artist's career, between 1665 and 1675.  In addition to their indisputable similarities, they use the same material, very smooth, with a translucent effect in the glaze, directly inherited from the Dutch school. Monnoyer later abandoned this style, to achieve a heavier touch through the use of numerous layers of paint.
Architectural remains, parts of platforms and the bottoms of stone pillars, worn away here and there, are covered by a pile of fruits, still on their branches, laid out in a deliberate state of disorder.  Among them, bunches of Italian grapes, with large silky and golden leaves, half open pomegranates and slices of melons are all recurring elements in Monnoyer's works.
The range of colors in this painting, exceptionally delicate and subtle, as well as the very elegant arrangement on the frieze, provide an excellent example of Monnoyer's art, which was so sought after during his lifetime.
We would like to thank Mrs Claudia Salvi for confirming the attribution of our painting.