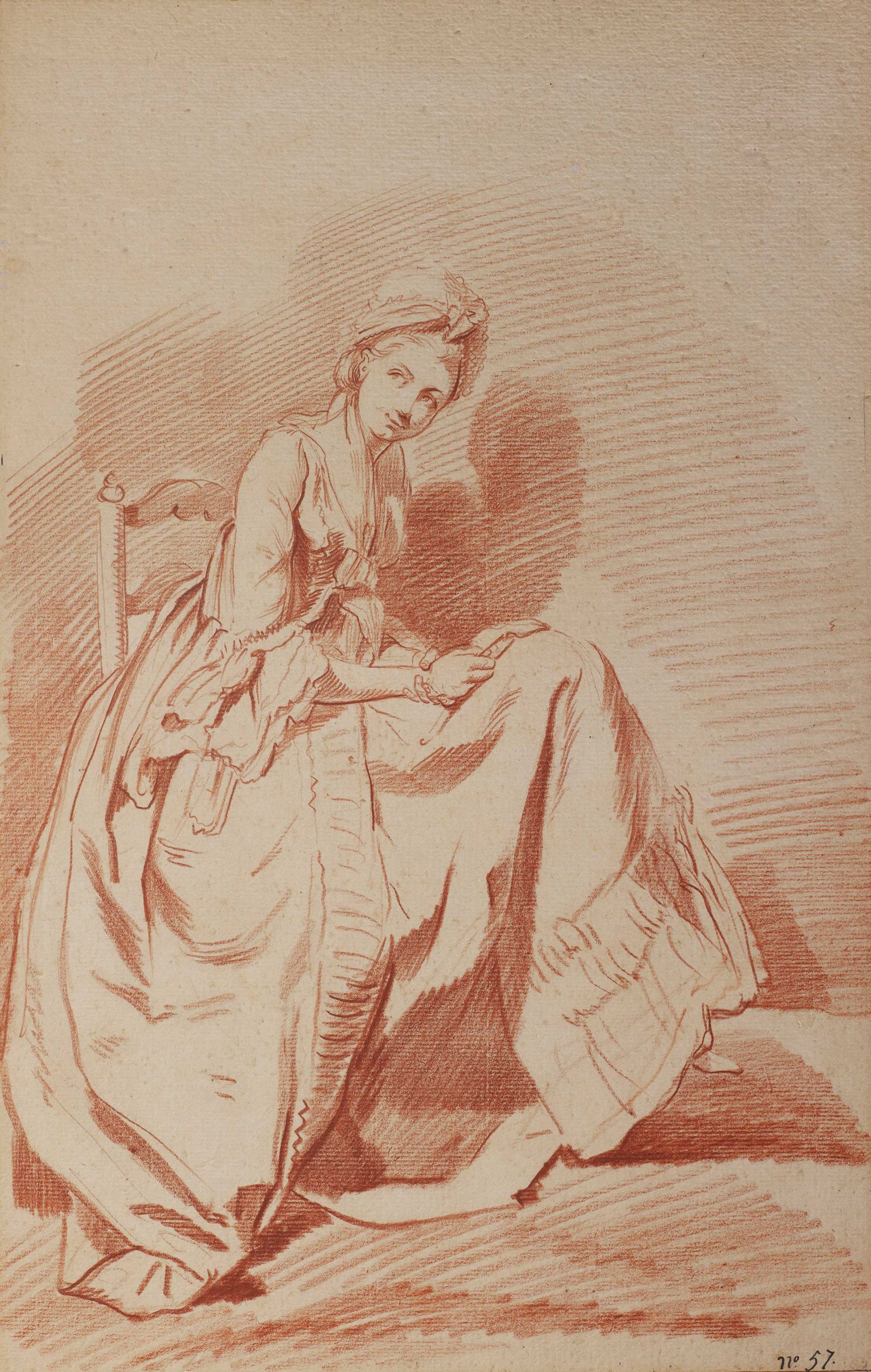 (1745 Paris 1800)
Young woman sitting on a chair
(Supposed portrait of Louise Charlotte Marini)
Sanguine on paper
370 x 240 mm (52 x 40 cm framed)
Inscribed n°57, lower right
Provenance : Collection Georges B. Lasquin (Lugt 1139a) his sale, Paris, Galerie Georges Petit, 7-8 june 1928, n°224
Bibliography : Jean Cailleux, The drawings of Louis Roland Trinquesse, Burlington Magazine, n°851, february 1974), cat.n°32, and note 62, ill. 31 (détail)
We know very little about the life of Trinquesse, aside from the fact that he began his studies at the Académie Royale in 1769 and exhibited at the Salons in 1791 and 1793.The artist's favorite themes—on which he spent a large part of his drawing career—were expressed in portraits and scènes galantes. He specialized in studies of young girls portrayed as they went about the everyday situations of their lives. He was particularly attached to detailing the clothing that was so popular among fashionable ladies in the 1770s and 80s: ruffled bodices and skirts, decorated with fringes and lace, dainty boudoir caps for indoors and huge plumed hats for outdoors. His search for elegance extended to the extremely refined poses of his models.
Trinquesse's love for these types of representations can also be seen in his painted compositions, like the two in the collection of the Dijon Musée des Beaux-Arts, Le serment à l'Amour (Vow to Love) and L'Offrande à Vénus (Offering to Venus).
Our drawing is entirely characteristic of his manner, as much in its technique—sanguine—as in its very particular treatment using broad hatch marks for backgrounds. This is undoubtedly one of the drawings that earned the artist his fame as a "crayonneur à la sanguine" ("sanguine sketcher"), in the words of the Goncourt brothers, who owned no fewer than 24 studies done by the artist's hand.
Our drawing can be compared to another one by Trinquesse, a Jeune femme assise, jouant du clavecin (Seated Young Woman, Playing the Harpsicord), in the Musée du Louvre and dated 15 November 1763.