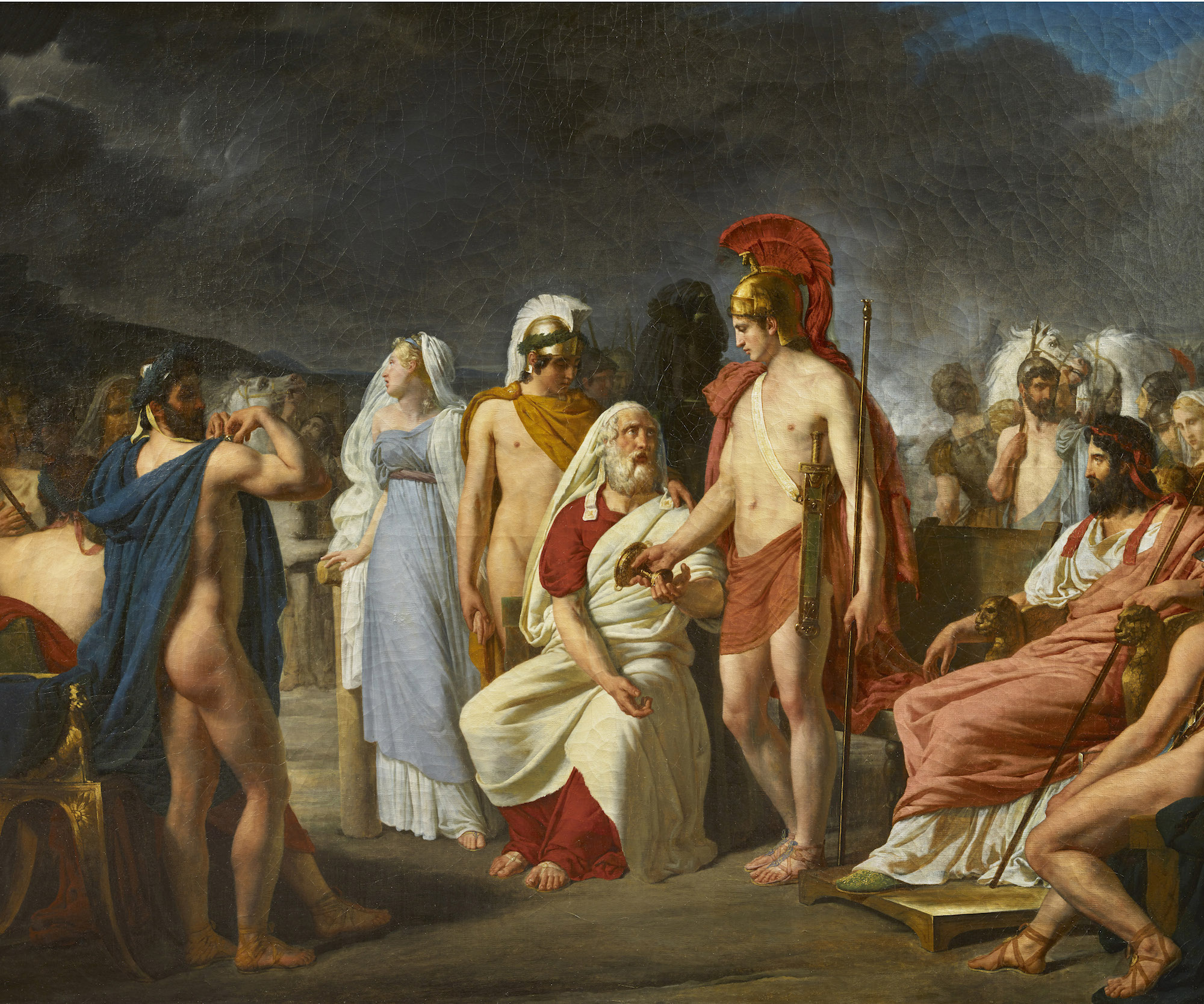 Raymond Quinsac Monvoisin
(1794 Bordeaux – Boulogne-sur-Mer 1870)
Achilles Giving Nestor the Prize for Wisdom
Oil on canvas
114 x 145 cm
With this painting the artist won the second prize at the Prix de Rome in 1820
Monvoisin was born, probably on June 1st 1794, in Bordeaux. He enrolled in the Ecole des Beaux-Arts there, studying under Pierre Latour (1745-1814).
He entered the studio of Pierre-Narcisse Guérin (1774-1833), who inspired him to turn to Antiquity as his source and taught him that drawing took precedent over color. In the studio, he met fellow-students Géricault (1791-1824), Coignet (1794-1880), Bodinier (1795-1872), Court (1797-1865), Delacroix (1798-1863), and Ary Scheffer (1795-1858).
The year 1820 marked a crucial year in Monvoisin's career.
The subject for the Grand Prix had been taken from a passage in Book 23 of Homer's Illiad: Achilles Giving Nestor the Prize for Wisdom.
The Grand Prize was attributed to Amable-Paul Coutan (1792-1837), pupil and protégé of Gros, whose painting is today in the collection of the ENSBA. The second prize thus went to Pierre Raymond Jacques Monvoisin (1794-1870), pupil of Pierre-Narcisse Guérin [our painting].
Also in 1820, Monvoisin executed a portrait of Louis XVIII for the Royal Court of Justice in Aix-en-Provence; this was probably a wise move by the artist, whether it came before or after a decision by the King to reward him.
In 1821, Monvoisin again participated in the Competition, which had as its subject Samson Handed Over to the Philistines. The First Prize winner was Joseph-Désiré Court. "The Académie regretted that it did not have another First Grand Prize to award to the painting by M. Pierre-Raymond-Jacques Monvoisin, pupil of M.Guérin, and a native of Bordeaux, 27 years old, who has already won second prize, and for two years in a row has narrowly missed having enough votes for the first; his Excellency, the Minister-Secretary of State of the Interior having informed the King, his Majesty kindly consented to award M. Monvoisin the sum of 100 louis, for each of the years 1822, 1823, 1824, as a recompense, to carry out the wish that the Académie expressed in this young artist's favor." (Journal des Savants, page 625), (By decision of the Jury, 21 July 1821.