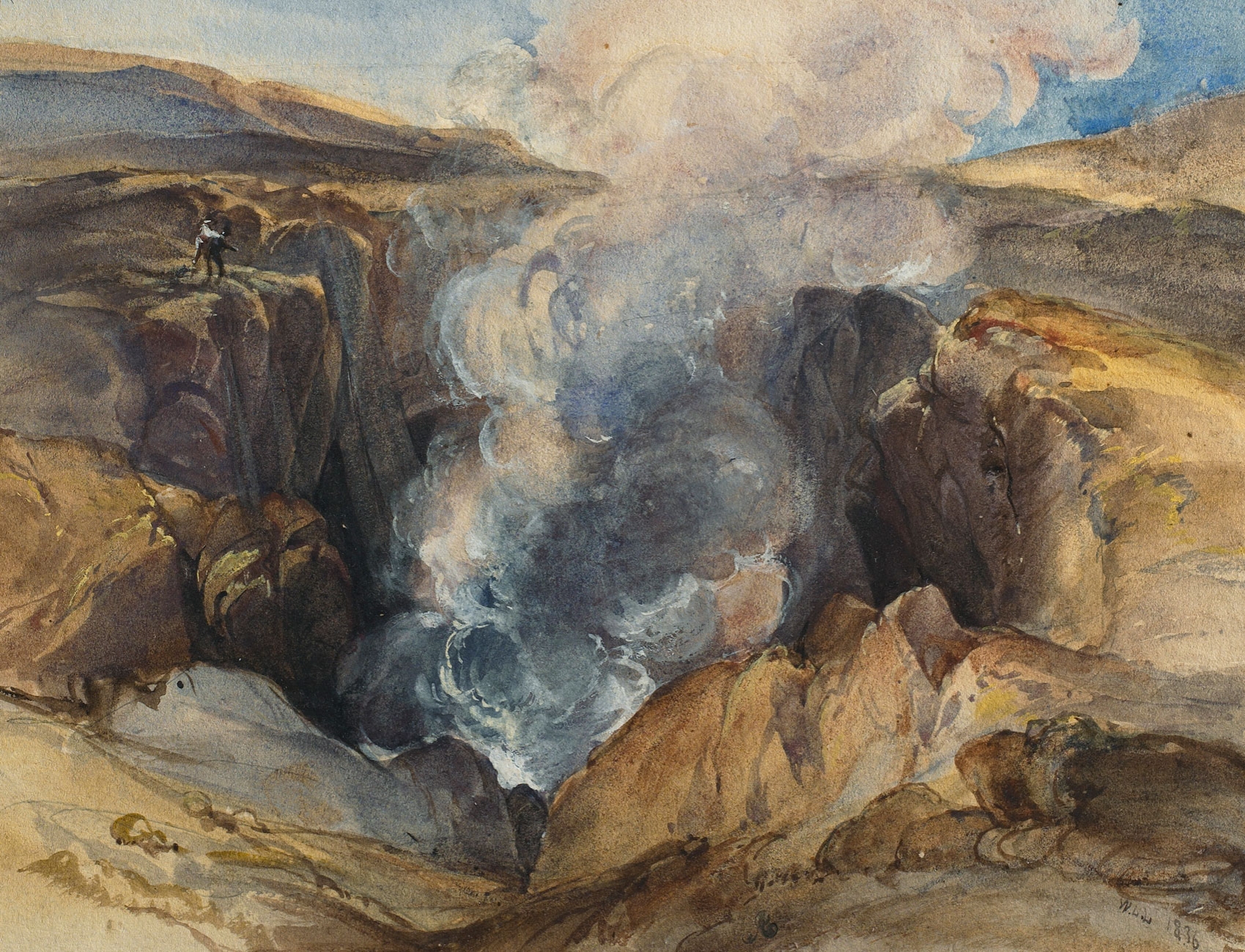 William Leighton Leitch
(1804 – 1883)
Personnages près d'un volcan
Aquarelle et gouache sur pierre noire
Signée et datée 1836
Cachet Auldjo (Lugt n°48)
PROVENANCE : collection John Auldjo, Londres ; probablement sa vente, 14 juillet 1859, n°222 à 236 « des dessins modernes par Leitch »
Leitch débuta sa formation chez un peintre d'enseignes de Glasgow, sa ville natale, avant de travailler pour le Glasgow Royal Theatre comme peintre de décors. Il poursuivit dans cette voie après son départ pour Londres, en 1830, et commença à réaliser des aquarelles et des peintures à l'huile.
C'est lors d'un long voyage en Italie et en Sicile que Leitch se consacra réellement à l'aquarelle et qu'il fut introduit auprès de grandes familles aristocratiques, qui apprécièrent ses talents dans ce domaine. La rencontre, à Venise, entre Leitch et Miklos Barabas, peintre hongrois, permit à ce dernier de moderniser la peinture de paysage à l'aquarelle après son retour dans son pays d'origine.
A partir de 1842, et durant vingt-deux ans, Leitch donna des cours de dessin et d'aquarelle à la Reine Victoria et à certains membres de la famille royale. Exposant à la Royal Academy entre 1833 et 1861, Leitch fut nommé, en 1862, vice-président de la New Society of Painters in Watercolors, charge qu'il exerça vingt ans durant.
Notre aquarelle, datée de 1836, est à replacer lors du séjour italien de l'artiste. La représentation d'une soufrière permet de situer la scène dans le sud de l'Italie ou en Sicile. La ligne d'horizon très haute confère à l'œuvre une certaine monumentalité accentuée par la présence d'un gouffre au premier plan.
Le nuage de vapeur dans lequel transparaissent les rayons lumineux donne un aspect étrange à ce paysage désertique. La présence de petits personnages au bord de la cavité tend à mettre en exergue la sensation de vide qui se dégage de la scène. L'aspect très libre de notre aquarelle se retrouve dans d'autres œuvres de l'artiste tels que « The Bass Rock, East Lothian » (1870 ; Sotheby's, 13 juillet 1995) et « Vico on the Bay of Naples » (1845).
John Auldjo (1805-1886), dont le cachet est présent sur notre dessin, était un collectionneur anglais de dessins, qui possédait près de quarante feuilles de l'artiste.
165 x 212 mm