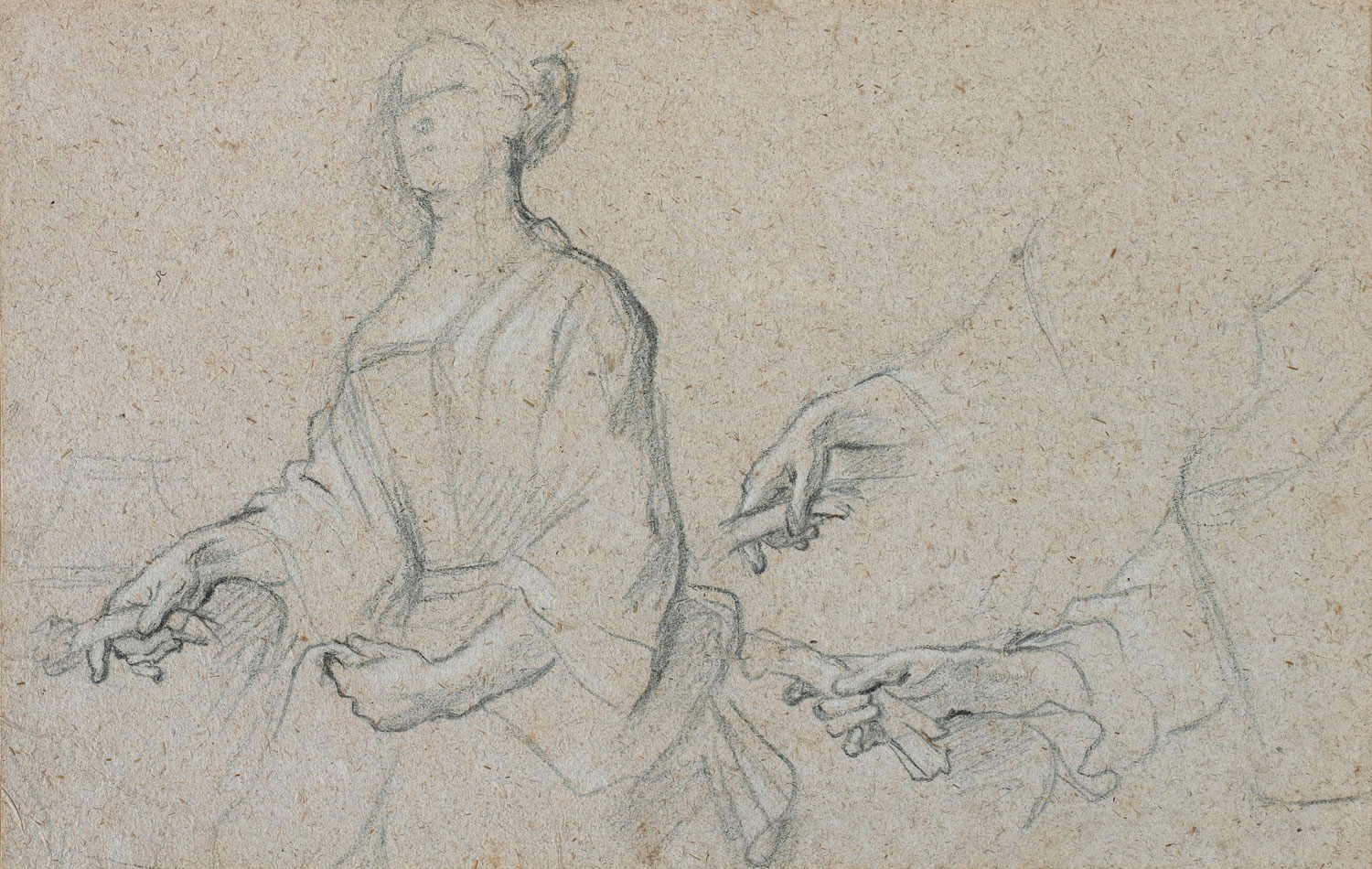 Studies for a portrait of a lady
Black chalk heightened with white
245 x 387 mm
Circa 1700
BIBLIOGRAPHY: Dominique Brême, François de Troy (1645-1730) Paris-Toulouse, 1997, ill. p.99.
François de Troy was taught by his father Jean, then by Nicolas Loire, and Claude Lefebvre. He moved to Paris after 1662 and was received at the Académie Royale in 1674 with Mercury and Argus (Ecole Nationale des Beaux-Arts, Paris). He was the protégé of Pierre Crozat, also from Toulouse, and together with Rigaud and Largillière became one of the most successful portrait painters of the court at the time.
Amongst the important commissions that punctuated his career are The birth of the Duc de Bourgogne, painted for the échevins (councillors) of the city of Paris in 1682; the portraits of Mademoiselle de Nantes (1690; Musée Condé, Chantilly), Mademoiselle de Blois (1691; Musée du Louvre, Paris), and the Princesse de Conti (Musée du Château, Versailles). Another famous portrait by him is that of the collector Jean de Julienne (1722; Musée des Beaux-Arts, Valenciennes).
A limited number of drawings survive, which Dezallier d'Argenville considered to be equal to 'those of Van Dyck'. Parallel to his career as a painter, he also held offices at the Académie Royale of which he became director in 1708, then a director of education in 1722. His son Jean-François de Troy (1679 Paris – 1752 Rome) was one of his pupils.
This drawing can be dated to between 1690 and 1705, a period during which he abandoned the technique of trois crayons (red, black and white chalk). During a time when trois crayons was still a medium favoured by Watteau and Charles de La Fosse, de Troy started to use black chalk only heightened with white. The drawings he did in this medium appear stronger and tend to have very pronounced contours. This drawing can be compared to Two studies of a seated lady now at the Musée des Beaux-Arts, Grenoble and two preparatory studies for the Portrait of Jules-Hardouin Mansart at the Musée des Beaux-Arts, Marseille and the Nationalmuseum, Stockholm.