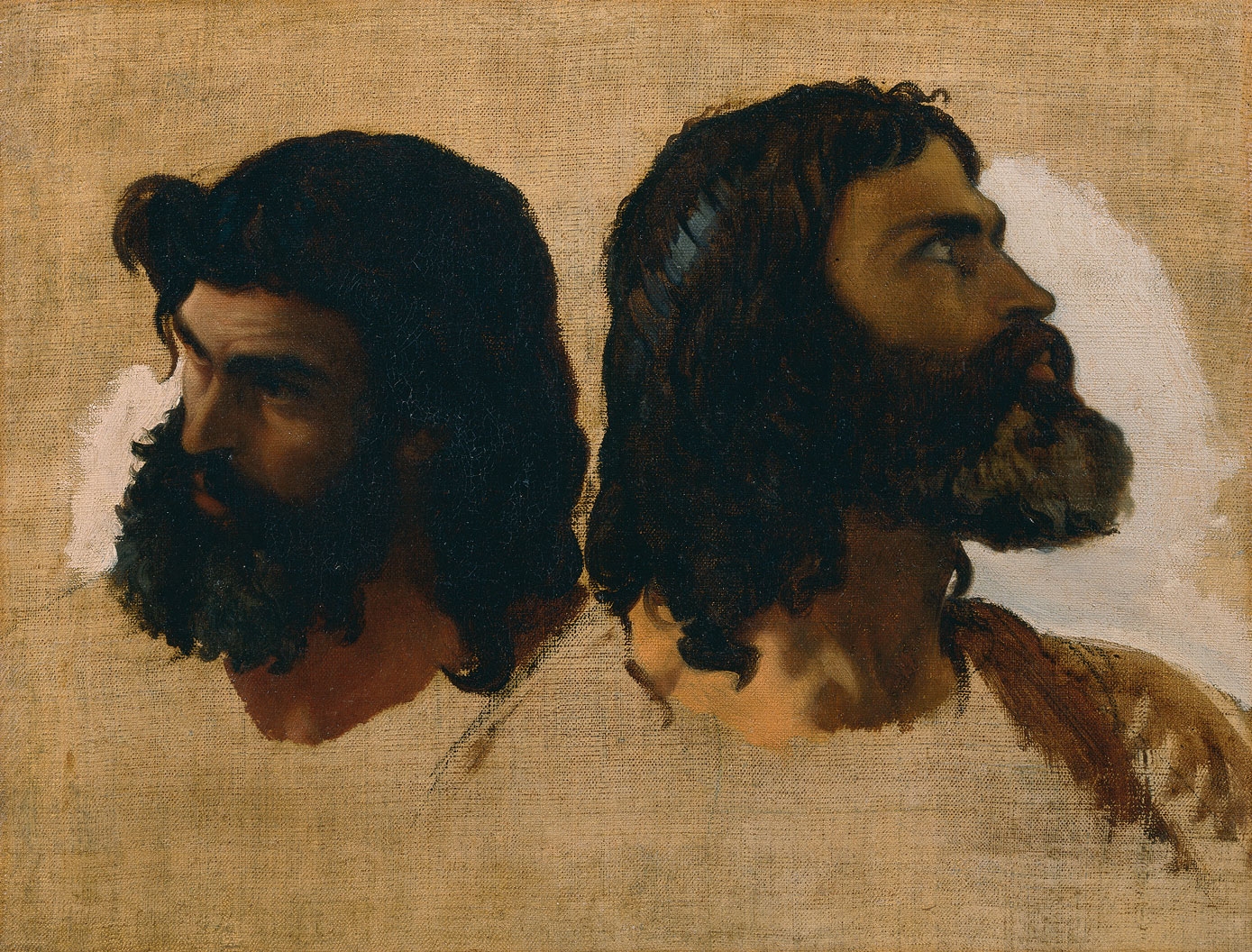 Two studies of a man
Oil  on canvas
38,5 x 50 cm
Executed circa 1840-45
PROVENANCE : Collection of the artist ; his sale, Paris, 20 march-1st april 1876 (stamp on the reverse of the stretcher)
Pils studied painting under Lethière, then in the studio of Picot, winning the Prix de Rome in Paris, after which he left for Italy. He stayed there from 1838 to 1845. His first really acclaimed painting was at the Salon of 1849, with Rouget de l'Isle Singing the Marseillaise, which is now at the Museum des Beaux-Arts in Strasbourg. In 1852, a painting titled La prière dans l'hospice impressed the Empress Eugénie so much that Pils became one of the most sought after young artists of the Second Empire. Enjoying the support of the imperial family, he specialised in historical subjects and recorded the military campaigns of the Emperor. In that role, he went to the Crimea and in 1857 he painted the Battle of Alma, which was commissioned for the Galerie des Batailles in Versailles. A long stay in Algeria followed. His work, Réception des chef's arabes par l'Empereur Napoléon III, shown at the International Exhibition in Paris in 1867, was destroyed in the Tuileries fire in 1871.
The now famous Pils was commissioned to paint the staircase of the Paris Opera, which he completed with the help of Clairin and Renouard.  A professor at the Ecole des Beaux-Arts, he was made an officer of the Légion d'Honneur in 1867, and then a Member of the Institute, the following year.
This painting dates from the beginning of Pils's career, while a student at the Academy in Rome, which was then under the direction of Ingres. It resembles several other portraits, all quickly executed, similar in size and technique, and usually using as models French artists like Pils himself, working in Rome. Interestingly, the portrait of the sculptor Auguste Ottin dates from this period.
In this painting Pils shows two studies of a man, one in profile and the other in a three-quarter view against a background of rapidly executed brushwork. One finds the same man featured in the Portrait of an artist, signed and painted in Rome (Paris, Hôtel Drouot, 24 March 1986, no. 86), unfortunately is still not identified.
Using a range of brown-ochre tones, the touches of light on the sitter's hair, and the direction of his gaze, leading us out from the confines of the composition, are particularly remarkable in this portrait, which is halfway between a painting and a study.