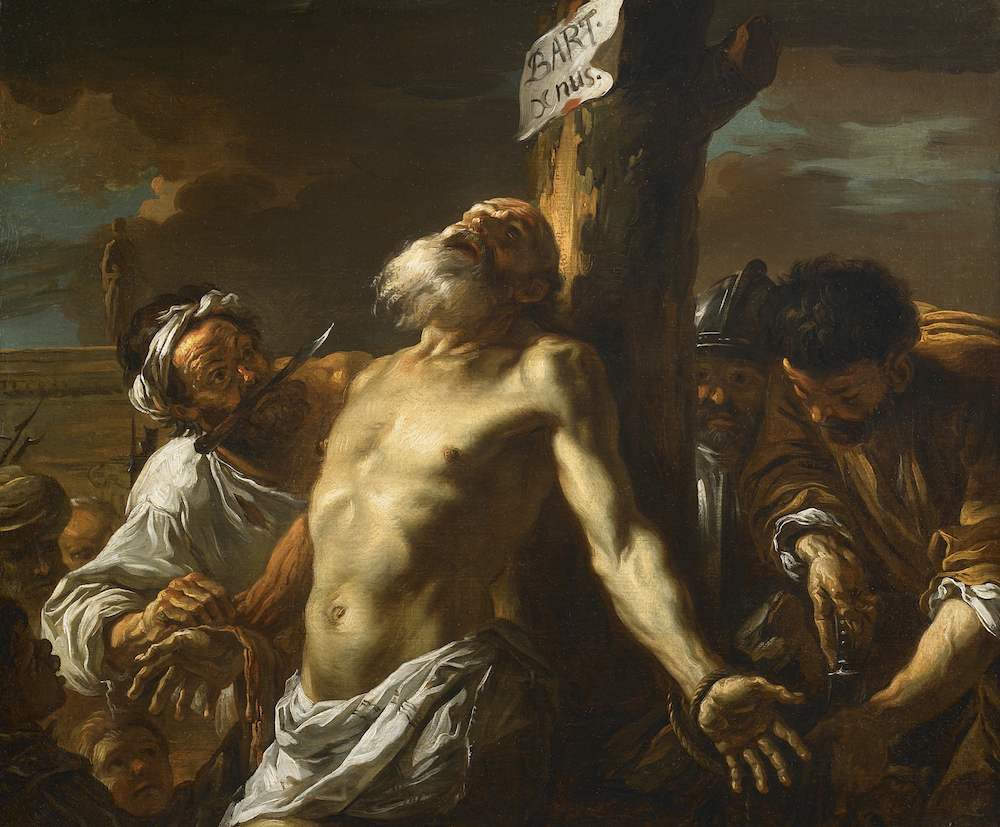 François André Vincent
(1746 Paris 1816)
The Flaying of Saint Bartholomew, after Mattia Preti
Oil on canvas
Circa 1774
LITERATURE :
Jean-Pierre Cuzin, Vincent entre Fragonard et David, Arthéna, p.382 n°177 p
PROVENANCE :
Peut-être le tableau peint à Naples pour Bergeret de Grancourt fin mai 1774 ; peut-être Paris, collection Bergeret ; peut-être sa vente après décès, Paris, « en son hôtel rue du temple » (Le Blanc, le Monier), 24-26 avril 1786, n°94 (« Le Martyre de S. Barthelemi, étude savante faite d'après le Tableau du Calabrais, connu dans un Cabinet à Naples. Hauteur 27 pouces, largeur 27 pouces 6 lignes (H. 0,730 ; L.0,742. T. ») ; acquis par Bellot ; peut-être vente Eugène Tondu, Paris (Febre), 10-15 avril 1865, n°263 (« Vincent (André)-Le Martyre de saint barthélémy »)
It is Vincent's preparatory drawing, formerly in the Petithory collection and today at the Metropolitan Museum of New-York  (Harry G. Sperling Fund, Inv.1973.317.2), that allows us to trace the history of our painting. The composition of the Martyre de Saint Barthélemy, in a brown ink wash (29.5 x 29.7 cm), is identical to our canvas, and is signed on the (period) stretcher "d'après le Cre Calabrese / Vincent Napoli 1774". This annotation allows us not only to positively identify its author and the precise painting by Mattia Preti he copied, but also to situate the work during the Neapolitan trip.
Preti took up this theme several times: in a composition focusing on the figure of the saint (Rome, Palazzo Corsini), and in a large format (190.4 x 192.9 cm) work which in the 18th century belonged to Ferdinand van den Eiden, a Flemish merchant who lived in Naples, and is today at the Currier Gallery of Art in Manchester (USA).
It is from the latter that Vincent took his inspiration (for the drawing at the Metropolitan Museum, our painting, and another version by him at the musée Granet in Aix-en-Provence ; we are grateful to Monsieur Jean-Pierre Cuzin for communicating this information to us). In his wash, Vincent copied the baroque master almost exactly, leaving out only a head at the right of the composition. In our canvas, he modified the almost square format by decreasing the size of the sky.
Its excellent state of preservation allows us to fully appreciate the rapid virtuosity of the brushwork in our painting, the rich and fluid use of paint providing a striking contrast to the dramatic intensity of this baroque composition. The influence of Fragonard and his figures de fantaisie is clear on this reinterpretation of a work by one of the most eminent masters of southern European painting.
Our painting was part of a large ensemble of works by Vincent in Bergeret's
collection (it was number 94 in the sale after his death.)
We thank Monsieur Jean-Pierre Cuzin for his help in the writing of this notice.
65 x 78 cm