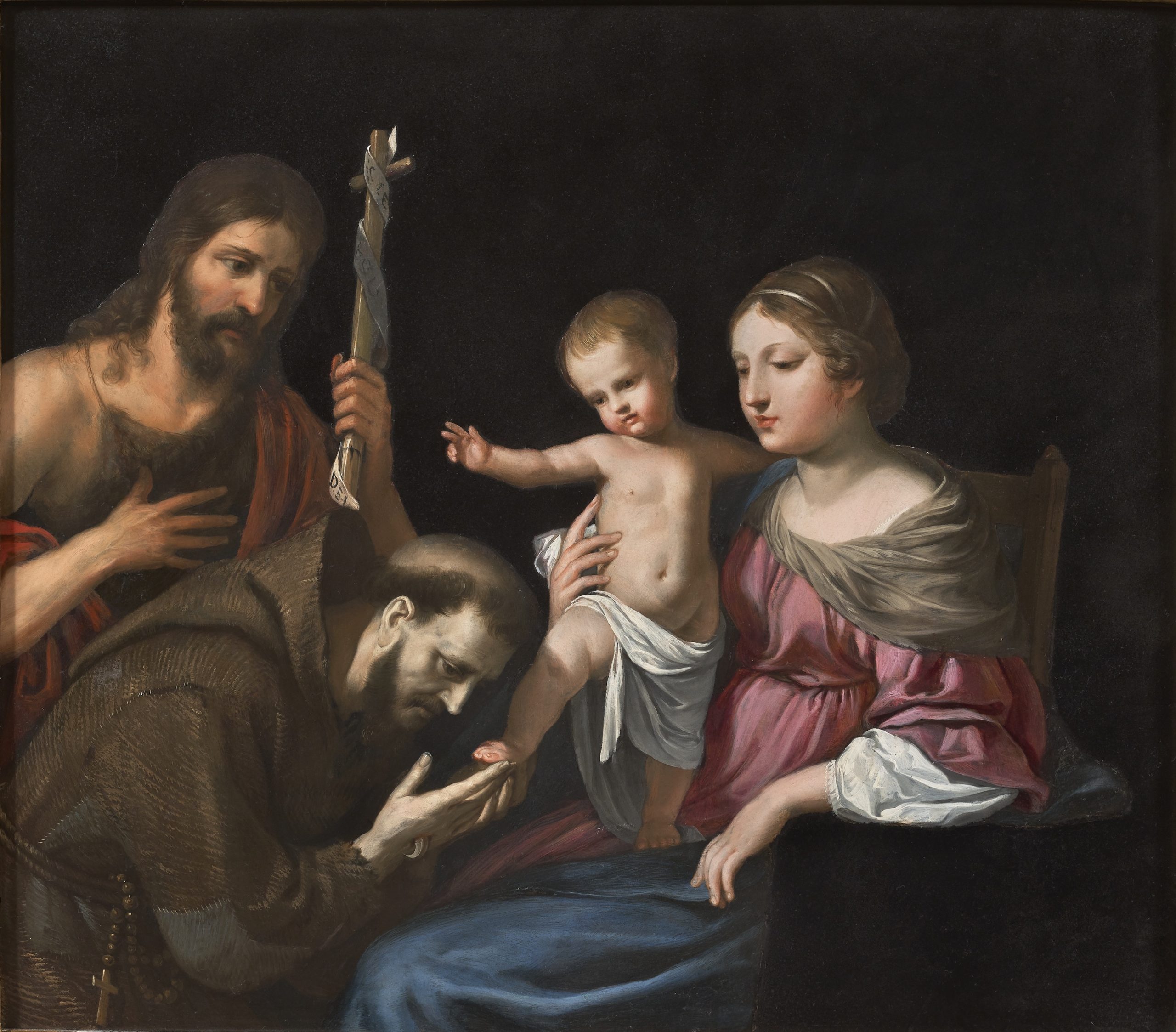 Jacques Stella
(Lyon, 1596 – Paris, 1657)
La Vierge à l'Enfant avec saint François et saint Jean-Baptiste
Oil on marble
38,2 x 42,6 cm
Circa 1635
Provenance : Sale Joseph Artaud, Paris, 15 november 1791, lot 90 ; Sotheby's, New York, 28 january 1999, lot 403 ; Private collection of the East Coast of the United States
Son of François Stella, a Flemish painter working in Rome from 1576 then in Lyon, Jacques Stella was born in Lyon in 1596. Around 1619, he left for Florence where he worked for Cosimo II de' Medici and probably met Nicolas Poussin and Jacques Callot. He left Florence for Rome between 1622 and 1623, where he formed a close friendship with Poussin who had arrived in 1624. Stella became famous among Italian collectors with his small paintings on precious supports such as marble, agate, lapis and slate, as well as with his engravings and drawings. In 1634, he received a commission from the king of Spain, and left Rome with the retinue of Marechal de Créqui, ambassador of France. He passed through Venice, stayed in Lyon in 1635 and then went on to Paris. Persuaded to stay by Richelieu, who took him into his service, he settled in the capital; there he benefited from lodging at the Louvre and a considerable grant. Later he was decorated with the order of Saint-Michel, which was a rare and great honour for an artist.
Still not thoroughly studied, Stella is one the greatest seventeenth-century French painters. His style is restrained and powerful. He preferred simple sculptural figures attesting to his knowledge of Antiquity. The smooth porcelain-like finish of his later works, as well as the colours cast in cold and abstract light, make Stella a precursor of neoclassicism.
As often when he painted on stone, Stella took advantage of the material itself, using its artistic possibilities. In our painting, Stella leaves the background untouched to give more presence to his figures.
We can compare our work with numerous Holy Family paintings by Stella in the second half of the 1630s and the beginning of the 1640s, of which the Holy Family with Saint John and a Lamb is a perfect example. Sylvain Kerspern confirms this dating, since he detects in it a work of transition between Stella's Roman manner—still brimming with baroque agitation—and the more Classical one that he adopted upon his return to France, and proposes that it should be situated between 1634 and 1637 .