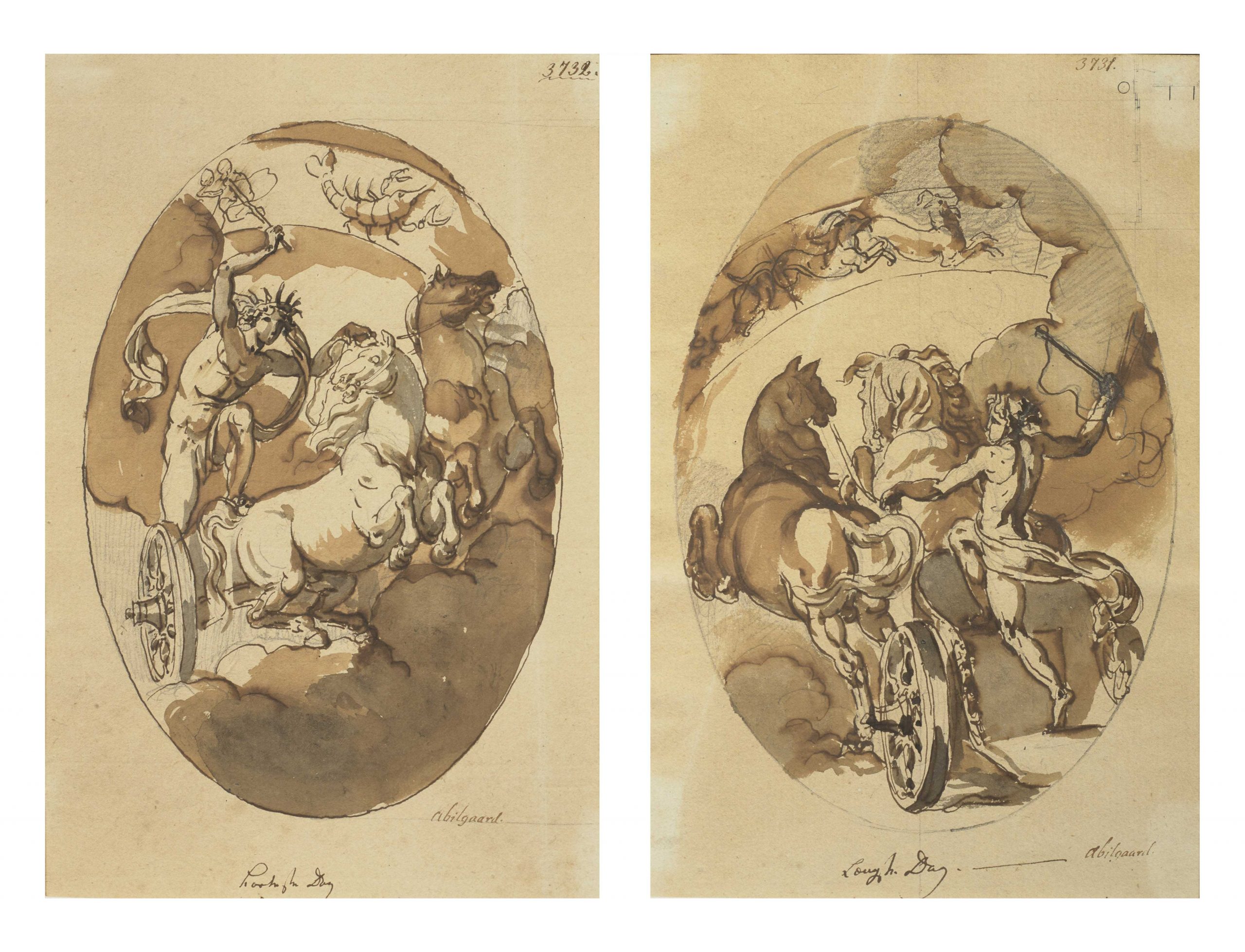 (1743 Danemark 1809)
The sun god Apollo entering the constellation of Cancer,
emblematic of the summer solstice
and
The sun god Apollo entering the constellation of Capricorn,
emblematic of the winter solstice
Pen, ink and wash over graphite
220 x 145 et 230 x 165 mm
Both inscribed: abilgaard
One inscribed: 3732 and Korteste Dag
The other inscribed 3731 and Laengste Dag
Before 1797
Abildgaard was a painter, sculptor, designer and architect. He was one of the main figures who shaped Danish neoclassicism; his work also displays Romantic elements. His wide reading is evidenced both by his copious private library, now part of the library of the Kunstakademi, and the great variety of subject-matter of his work. He not only drew on Greek and Roman mythological themes, but also on the work of Ossian and Shakespeare, and ancient Danish mythology.
These two drawings by Abildgaard represent the dates the sun, or here Apollo, is about to pass through the constellation of Cancer and Capricorn.
The inscriptions on the two drawings appear to have been switched: the drawing numbered '3732', with Apollo entering the constellation of Cancer, emblematic of the longest day or summer solstice, is inscribed Korteste Dag (Shortest Day); the drawing inscribed '3731', with Apollo entering the constellation of Capricorn, emblematic of the shortest day or winter solstice, is inscribed Længste Dag (Longest Day). An alternative interpretation which would mean that the inscriptions are in fact correct, could be as follows: from the moment Apollo passes through the constellation of Cancer, he hurtles towards the shortest day, justifying the inscription Korteste Dag below; similarly, as soon as Apollo passes through Capricorn, the days become longer, and Apollo is aiming for the longest day, a possible explanation for the inscription Længste Dag below