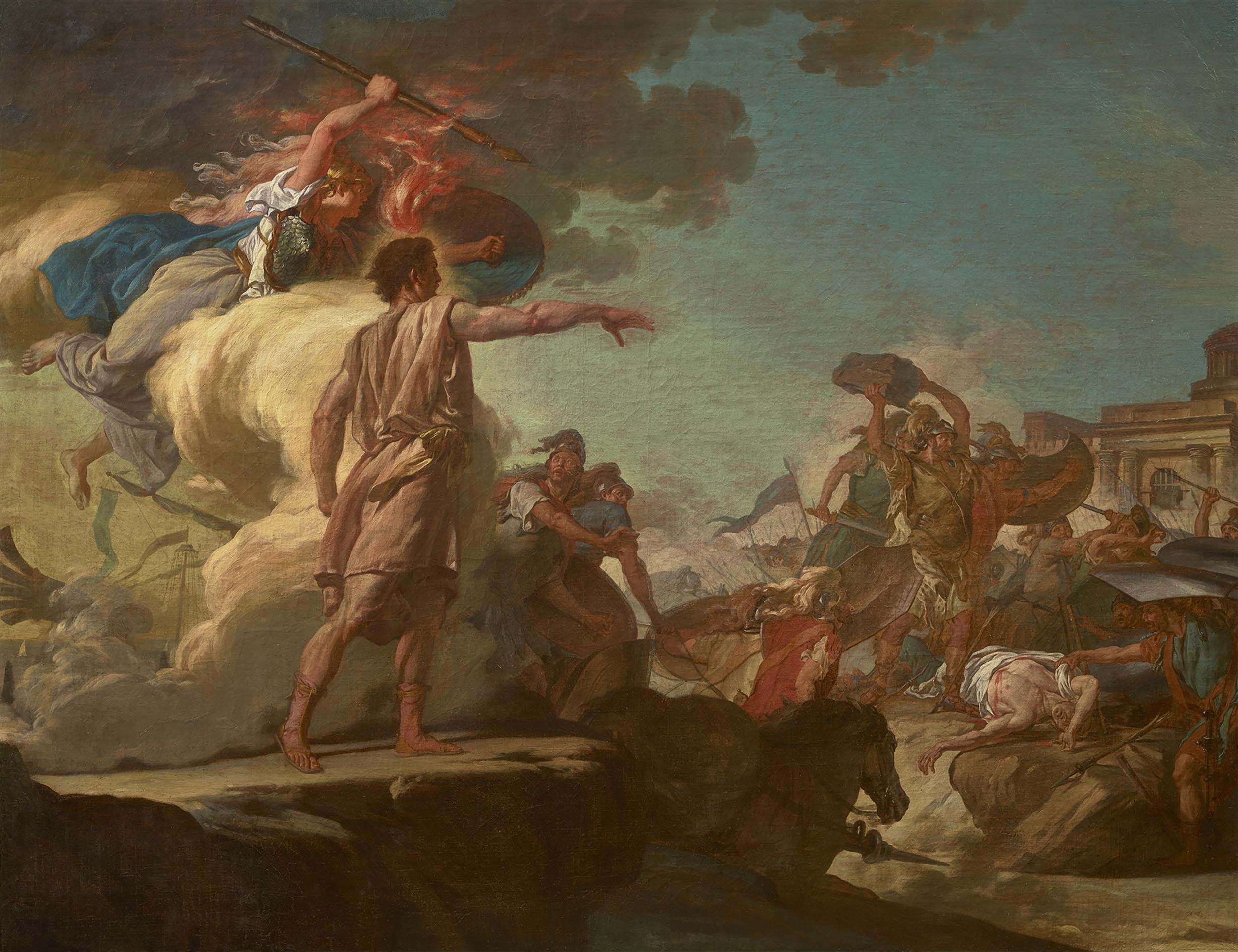 Study for 'The Greeks and Trojans fighting over the body of Patroclus'
Oil on canvas
89.5 x 115.5 cm
c.1781
Provenance:
Probably the artist's posthumous sale, Paris, 16 April 1792 (n°11 'Trois esquisses, dont le Combat des Grecs fur le corps de Patrocle…')
Bibliography:
Marc Sandoz, Nicolas-Guy Brenet (1728-1792), Editart-Quatre chemins, 1979, p.114, n°96 et p. 146-147
Comte d'Angiviller, Superintendant of Building to Louis XVI, inspired by the example of Colbert, became closely involved in the arts and put new emphasis on history painting. This led to numerous commissions and to Brenet's choice of subject for the painting he showed at the Salon of 1781 (no. 26): the large canvas (323 x 422 cm), now at the Musée des Beaux-Arts d'Arras, represents the The Greeks and Trojans fighting over the body of Patroclus.
This is the preparatory study for the final painting in Arras. For the subject Brenet sought inspiration from books XVII and XVIII of Homer's Iliade: the fight over the body of Patroclus. Achilles, who has learned about the death of his friend, Patroclus, intends to take away his body from the hands of the Trojans. The hero presents himself before the ramparts built by the Greeks, unarmed, and succeeds, under the sole protection of Pallas and yelling across the ditch, to spread fear and confusion in the Trojan army. The latter took flight and abandoned the body of Patroclus. On the right of the composition, Ajax, described in the Iliad as being the bravest Greek hero after the godlike Achilles, is casting a stone at the Trojan soldiers approaching Patroclus.
Comparing this study with the final composition, one can observe several differences: the figures of Achilles and Pallas are moved more into the background, and instead Ajax fighting the Trojans takes centre stage.
In the catalogue of Brenet's posthumous studio sale three of his preparatory studies are mentioned. One of them is described as 'le Combat des Grecs sur le Corps de Patrocle' and without doubt refers to this study.
Nicolas Guy Brenet was born in Paris in 1728 and received his initial training at the workshop of Charles Antoine Coypel before entering that of François Boucher. He was taught by Carle van Loo at the Ecole Royale des Elèves Protégés and in 1756 he went to the Académie de France in Rome. When he returned to France in 1761, Brenet received his first commissions for churches and official buildings. In 1763 he first exhibited at Salon and in 1769 he was received by the Académie Royale as a history painter with Theseus finding his father's sword (École Nationale Supérieure des Beaux-Arts, Paris).