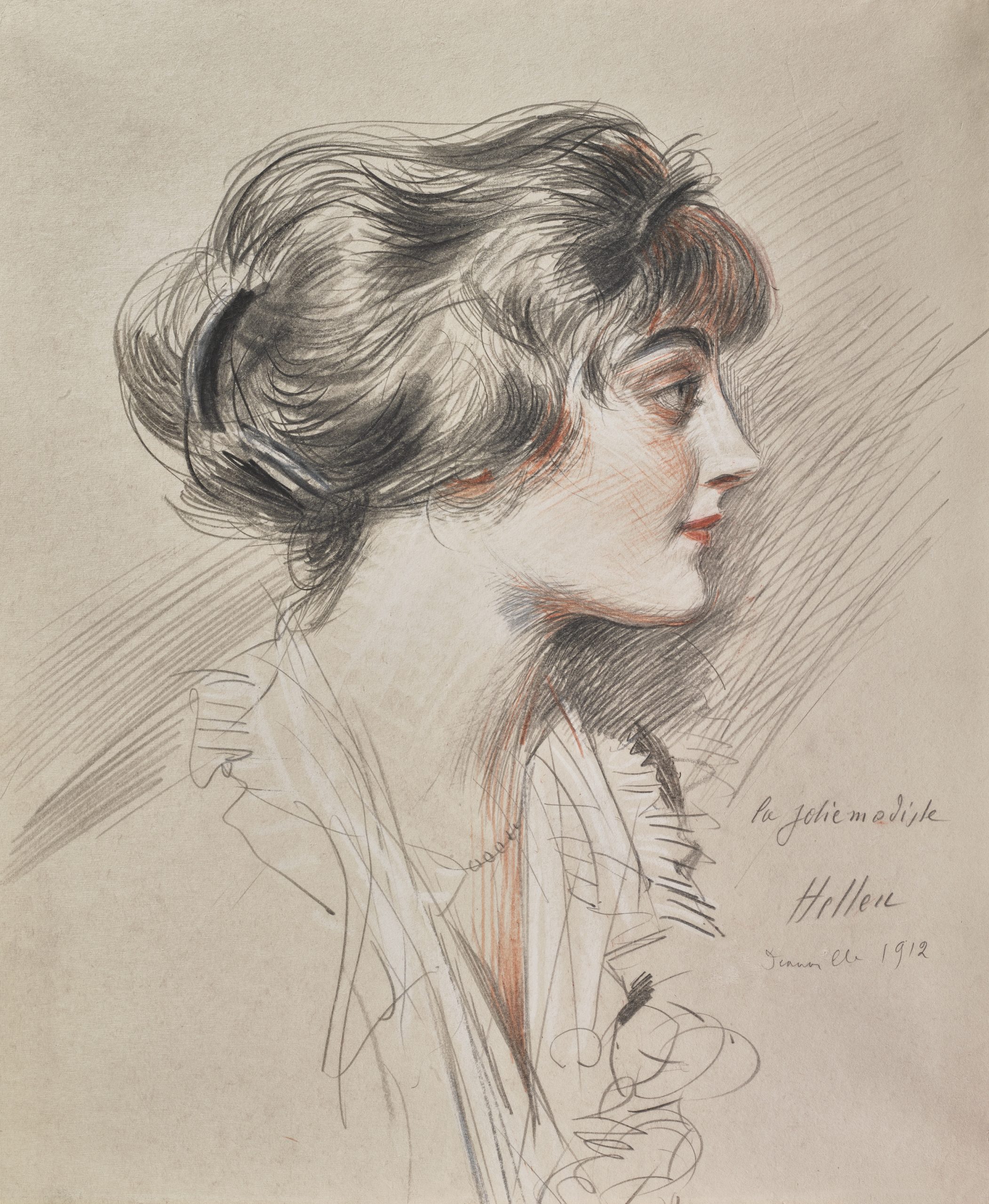 (1859 – 1927)
'La jolie modiste'
 Presumed Portrait of Gabrielle Chanel, known as Coco Chanel
 Black, red and white chalks
470 x 395 mm
Inscribed, signed and dated in black chalk on the right:
La jolie modiste / Helleu / Deauville 1912
 Certificate of Amis de Paul-César Helleu, dated 18 February 2015
Paul César Helleu and his family stayed in Deauville every year. There he made the acquaintance of Gabrielle Chanel, a young milliner, whom he befriended. From 1910 on he drew her frequently in pastel or chalk, as on this sheet.
Gabrielle Chanel worked from a young age as a seamstress for the Maison Grampayre and met Etienne Balsan, a racehorse breeder, from whom she learned the conventions of high society. It is within this racing set that she met the British businessman Arthur Capel, nicknamed 'Boy', who had made a fortune in coal freight and owned a polo stable.
Thanks to the financial assistance of her companion she was able to open her first fashion salon in 1910, known as 'Chanel Modes'. It is also thanks to him that the she discovered Deauville.  At the time, she made hats, as well as dresses which she wore at the races. Avant-garde and sporty, these outdoor dresses were a great success with the wealthy clientele of the seaside resort.
In 1913, Boy Capel rented a shop for her in Deauville, between the casino and the Hôtel Normandy, which she called 'Gabrielle Chanel'. The interior of this shop can be seen on an illustration by Léon Fauret (1863-1955), showing from left to right: Gabrielle Chanel, Mademoiselle Frévalles, Madame X, Paul-César Helleu and Alberto Santos-Dumont. It was in Deauville in 1912, following a walk on the beach, when Helleu gave Mademoiselle Chanel the idea of using beige, the colour of sand, in her dresses.