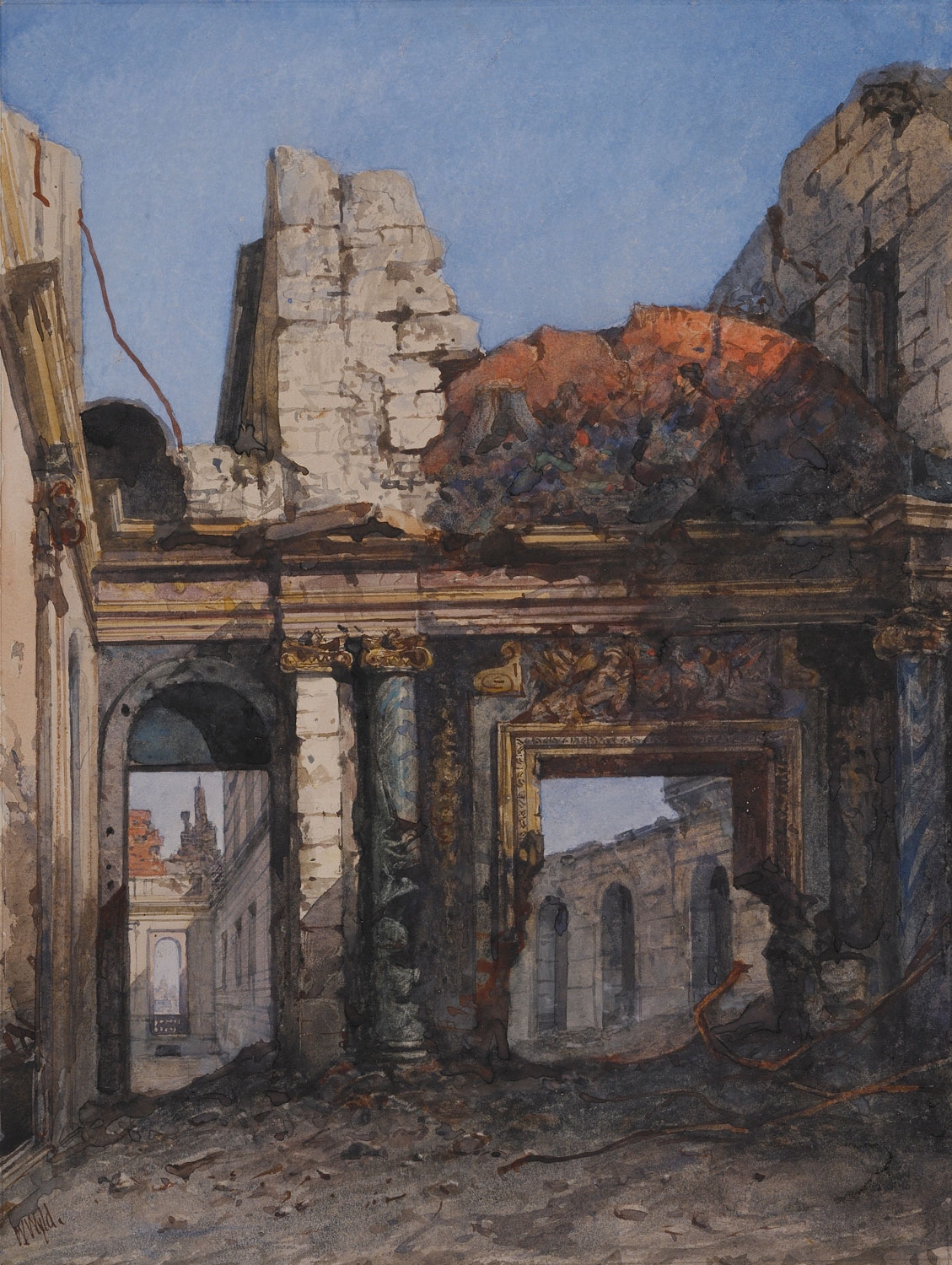 The ruins of Château de Saint Cloud: the Salon of Mars, leading to the Gallery of Apollo
Watercolour over pencil
Signed lower left: WWyld.
Inscribed in pencil, verso: The Palace. St Cloud / the dome of the Invalides is seen through the window on the left
350 x 266 mm
Provenance: Sir Mathew Thorpe, England
William Wyld spent most of his life in France and his work was strongly influenced by that of his friend of Richard Bonington. He regularly exhibited at the Salon and receieved the Légion d'Honneur in 1855.
This watercolour is a testimony to the history of the Château de Saint Cloud. It played a particularly important role after Napoleon declared it national property in 1801. It was here that the Directoire was suppressed, the Consulat declared and, in 1804, the Empire proclaimed in the Gallery of Apollo; in this watercolour the latter can be seen beyond the Salon of Mars, the room with the three arched windows. It was then the headquarters of important historical events such as the capitulation of Paris in 1815 and the declaration of war against Prussia in 1870.  This conflict led to the destruction of the château; it was devastated by fire on 13 October, 1870 at the time of the Commune.  The ruins were finally razed in 1891.
The artist chose a particularly eloquent viewpoint to paint the ruins of the Château, showing the remainders of a fresco and the elaborate decoration surrounding a door frame in the Salon of Mars. The tightly packed frame, almost photographic, confers an unquestionable monumentality to this work, and the three-dimensional quality of the architecture is enhanced by the sun light falling in from the upper left, creating a play of light and shadow.
The artist was familiar with the building long before its destruction: in 1855 Queen Victoria had commissioned him to paint a view of the Château de Saint-Cloud, which is still in the Royal Collection, London.