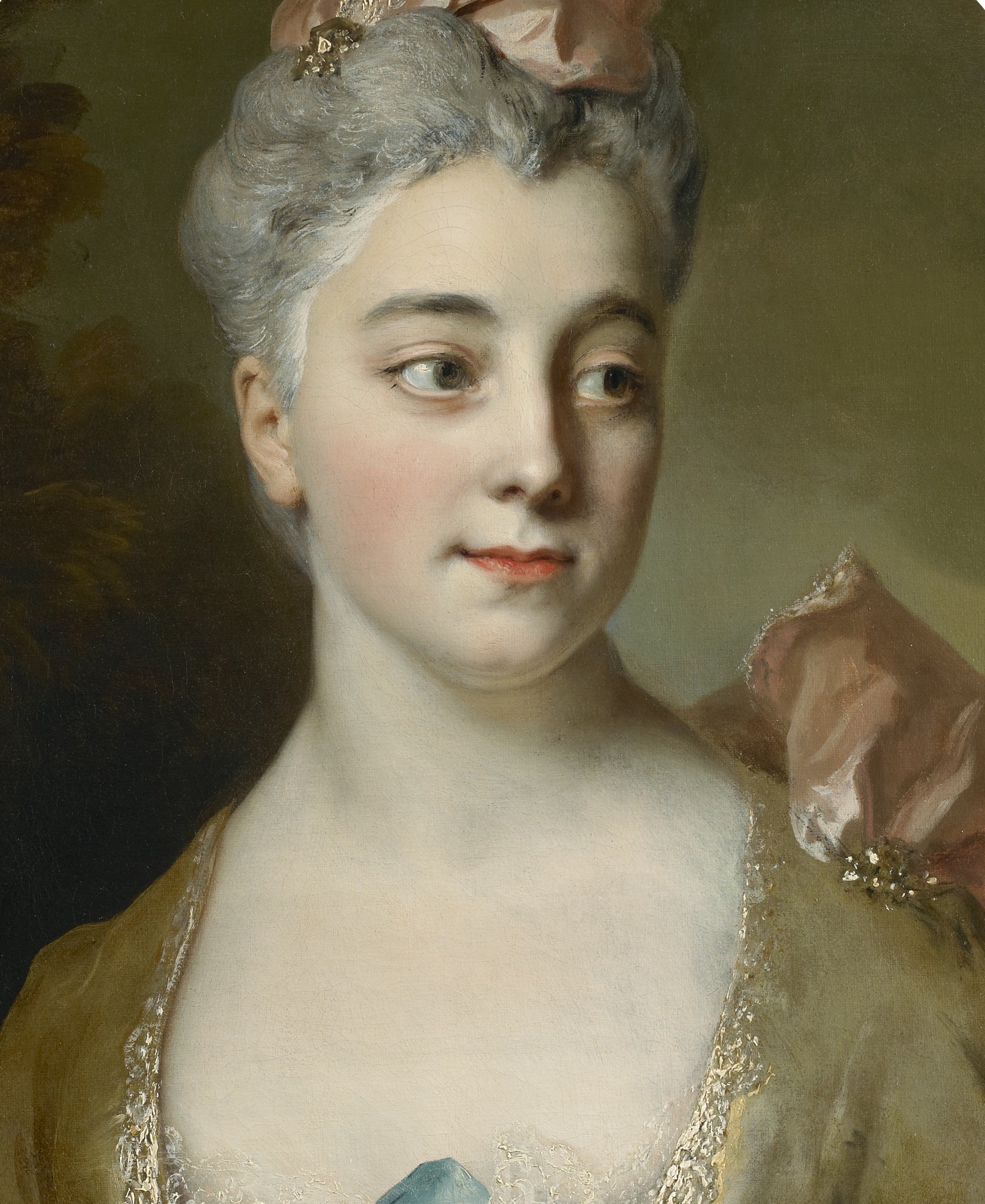 Nicolas de Largillière
(Paris, 1656 – 1746)
Portrait said to be Mademoiselle de La Fosse
Oil on canvas
Signed and dated on the back of the original canvas: Peint par N. de Largillière 1716
Bibliography: will be included in the catalogue of the work of Largillière of Dominique Brême, now in progress
Provenance: collections of the Château de Bussy
Born in Paris, Largillierre had no training in France since he moved with his father to Anvers when he was three years old. At 18, he spent a year in England, before returning to Anvers, to the studio of Antoine Goubau (1616-1698). There he specialized in still life, an art at which he excelled, as evidenced by the very beautiful Musique (1695-1700; Musée des Beaux-Arts of Quimper), even if today this is an aspect of his work that is little known. He then returned to London where he spent several years, from 1675 to 1679, frequenting in particular Peter Lely (1618-1680), First Painter to King Charles II, who gave him numerous commissions for restorations. In London, Largillierre discovered the art of portraiture, learning all that he could from van Dyck.
As Dominique Brême underlines (Dossier de l'art Largillière, un géant retrouvé, p.51), "Largillière reached full maturity in the years around 1710 to 1725. Perhaps it would be an exaggeration to say that the new direction in the Master's manner came from the erosion of the reign of Louis XIV and the collective desire to break with the burdensome rituals that he had instituted."
Our portrait, more sensitive and spirited than works from the 1700s, can be compared to The Comtesse de Montsoreau and her Sister (1714, private collection) and the Portrait of a Man in Hunting Dress (circa 1725, Karlsruhe, Staatliche Kunsthalle). These compositions are, of course, more ambitious, but in them we find the same inspiration, the same pursuit of elegance, grace and lightness, that distances them from the rigid etiquette imposed on the court by Madame de Maintenon at the end of the reign of Louis XIV.
56 x 46 cm